'Bakewell tarts,' Dad says when I answer the phone.
'What about them?'
'I've made some.'
'For us?'
'Yes. Can you pick them up? Before I eat them all.'
I promise I'll be straight round and hang up. 'Chris,' I shout downstairs to where my husband is hard at work. 'Stop what you're doing. There's cake.'
Within minutes, we're in the car and on our way. Under government tier two guidelines, we are no longer allowed inside my parents' house. But outdoor gatherings are still permitted. We can hover on the doorstep with a brew and a Bakewell tart.
As soon as we step out of the car, I get a whiff of home baking.
'Something smells good,' I say, opening the door but not going in.
Mum is sitting at the kitchen table with a book and a coffee. Dad is in front of the oven, taking out a batch of freshly baked scones.
'Scones as well?' I say.
He smiles and lifts the tray. 'Bakewell and scones.'
'He's been at it all afternoon,' Mum says, not looking up from her book. 'He's baking every day. He thinks he's one of the Hairy Bikers.'
'If it helps him cope. It's fine.'
Dad is baking his way through lockdown. It started in March with a batch of basic buns, before progressing to a plain and simple Victorian sponge. Then, in the summer, came the apple pie.
The tree he'd planted back in 2006 finally started blooming. So, he's been making apple pie after apple pie after apple pie. Each one was sweet, sticky, delicious and tasted better and better.
As autumn arrived and the last apples fell from the tree, his attention turned to scones. He found an old recipe of my grandmother's in a drawer. They're the best scones I've ever tasted (and I've had a few).
He bakes. We eat. All of us are getting fatter, but life is sweeter with one of his latest bakes to look forward to. And now we have the exciting addition of a Bakewell tart.
'I didn't think you liked Bakewell tart,' I say to Mum.
She puts her book down and screws up her face in disgust. 'I don't.'
Last year, for Mother's Day, we'd bought her a Bakewell tart afternoon tea in Bakewell. It wasn't until we were sitting at the table about to be served with Bakewell tart and Bakewell pudding, that she mentioned she didn't like anything Bakewell.
'It brings back bad memories of Granny Maud,' she said. 'She used to force feed us Bakewell tarts.'
I turned to my mother. 'We've bought you a Bakewell extravaganza and come all the way to Bakewell… Why didn't you say?'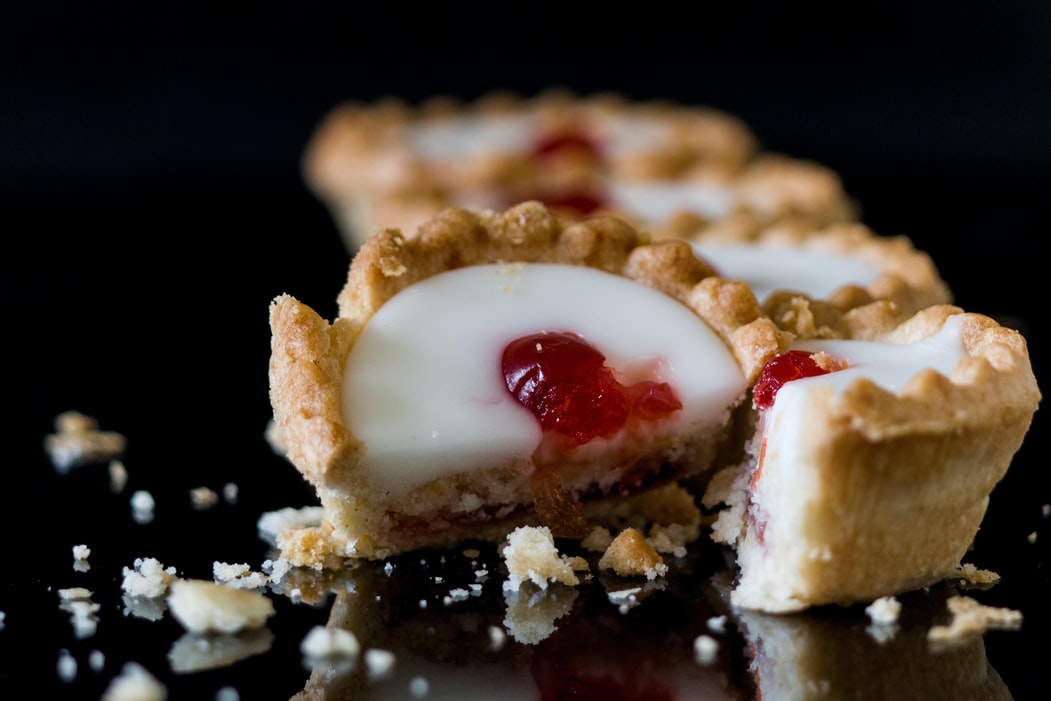 'Well, I try not to think about it. She was quite mean.'
I'd heard the stories about Granny Maud, the woman her grandfather had married after the death of her real grandmother. But the Bakewell incidents had been blocked out, too traumatic to mention.
To save the afternoon tea experience, I'd eaten Mum's Bakewells, and she'd had my cakes. There was no tart trauma for me. I'd devoured the lot.
'Bakewell tart, anyone?' Dad lifts it from the cooling rack and cuts into it. Steam rises. 'It probably needs more time to cool.'
'No,' I say. 'It'll be fine.' It's getting chilly standing on the doorstep.
'Not yet,' he says. 'Have a scone first.'
I smother one in jam and cream and savour every mouthful. And then it's time for the main event, the Bakewell. We sit on the garden bench and start eating.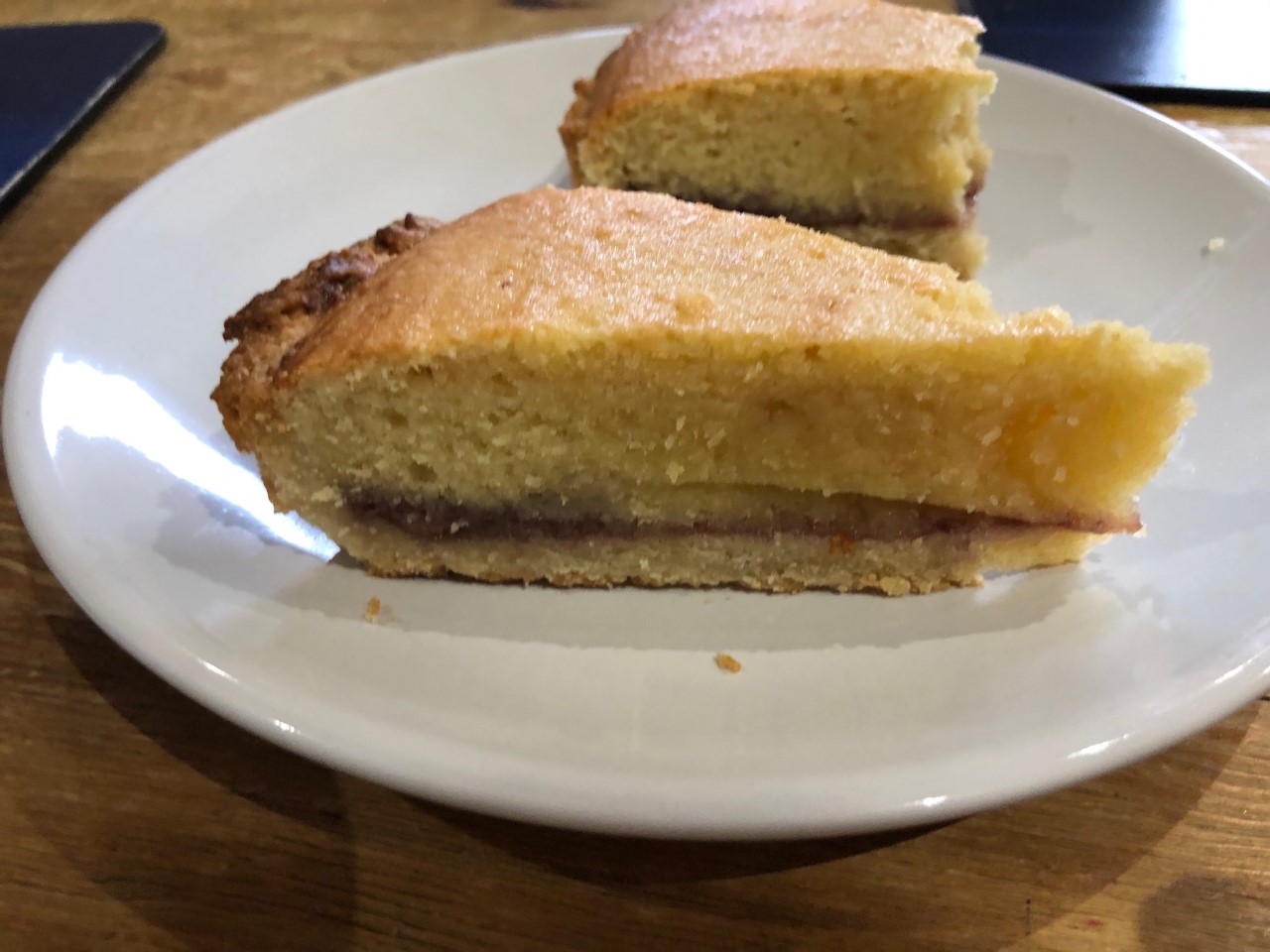 Dad stands in the kitchen like a contestant on The Great British Bake Off, nervously awaiting our verdict. 'I couldn't find the Mary Berry recipe, so I used one off the internet… I wasn't sure about it… What do you think?'
'Delicious,' Chris says.
I nod and keep eating. The taste of almonds, the jam, the sponge, the crumbliness of the pastry is just amazing.
'The best thing you've made so far,' I say quickly between mouthfuls. If touching was allowed, I'd reach out and shake his hand, Paul Hollywood style. But that is against the rules. Instead, I shovel in the rest of the slice, devouring it in seconds.
'I didn't realise I was so hungry.' I stare into the kitchen at the rest of the tart, but just as I'm thinking of having another slice, my bottom lip starts tingling. Within moments, it's swelling. It feels like something is stuck at the back of my throat. I cough but can't dislodge it.
Dad gets a glass of water for me. But it's still there. My lip is getting bigger, my throat tighter.
'She's having an allergic reaction!' There is panic in Mum's voice. She looks at Chris and Dad, then back to me. 'We need to take you to hospital.'
I sip the water and try to stay calm.
Mum's voice is rising, and she's on her feet. 'We need to do something.'
'Come in,' Dad says, pulling out a chair.
I step into the house, breaking all government guidelines, and sit down. 'It's probably just a slight reaction,' I say. 'I don't want to be going to hospital in the middle of a pandemic.'
Mum is on her feet. 'What if it gets worse?'
'I'll be okay.'
'How do you know?'
She turns to Dad. 'What did you put in that tart?
'Nothing.' He shakes his head.
I cough again and take a deep breath. 'I'll call the NHS number.'
'It's a busy time,' the voice recording tells me. And then gives detailed instructions about what to do if I think I have coronavirus. Eventually it tells me to press one for coronavirus, and two for anything else. I press two and wait.
The operator takes me through some questions. I explain about the Bakewell and lip swelling and throat tightening.
'Based on what you've said, I'm going to call an ambulance,' he says.
'I don't think I'm that bad.' An ambulance seems very dramatic.
'I'll get a nurse to call you back.'
The call comes immediately.  'I understand you've eaten a Bakewell tart?'
'Yes.'
'And had an allergic reaction?'
'Yes.'
'And your lips are swelling and airways tightening?'
'Yes.'
'I'll need to send an ambulance.'
'No, honestly, it's fine. If it gets worse, I can drive to the hospital.'
'But if your airways block on the way, what will you do?'
The thought of being stranded at the side of the road, choking, shocks me into submission.
'I'll send it to your home address,' he says, assuming that I'm following government guidelines.
'I'm not at home.'
'You're not at home?… Where are you?' I hear the accusatory tone in his voice. What he really means is, Why aren't you at home? You're in tier two, you should be at home.
'I'm at my parents' house.'
'Right.' On the other end of the phone, he sighs. And loudly.
I am ashamed of myself for coming to my family home and eating Bakewell tart. I haven't been anywhere or done anything since March, I want to explain. We're in a bubble. But the tightening in my throat is getting worse.
'The ambulance is on its way,' he says.
I hang up and turn to my family. 'I think we're in trouble for coming in.'
'I know we're breaking rules,' Mum says, 'but you couldn't die on the doorstep. What kind of mother do they think I am?'
The ambulance arrives in ten minutes. Two paramedics, a man and a woman, wearing masks and aprons step into the kitchen. Mum and Dad disappear outside. Chris stands in the doorway.
The paramedics don't tell me off for being in the wrong house; they treat me with kindness.
'So, you've had an allergic reaction to Bakewell tart?' he says.
'I'm not sure if it's the scone or the Bakewell,' I say.
'Do you want another slice while we're here, and we'll find out?' He laughs.
'It's been a day of confectionery,' she says. 'We've just seen a woman who's had four doughnuts.'
'Four!?'
'It's not why she called us out, but, yes, four.'
'That puts my scone and Bakewell slice to shame.'
After doing lots of tests and satisfied that my airways are not going to close, they tell me to call the doctor, who won't see me, but will arrange for me to have an epipen. 'And stay off the scones and Bakewell tarts.'
'I hope it's not the scones,' I say, because scones are an important part of my life. Back in the days when parkruns were permitted, the thought of scones in the café got me up the last hill. I can come to terms with a future without Bakewells in it, but scones… absolutely not.
'Are you okay?' Dad knocks on the door, afraid to step inside.
I nod. 'You tried to kill me!'
'I knew I should have used that Mary Berry recipe.'
.
Sign up to my newsletter, Life happens, books and cake help, and receive a FREE ebook.
Do you enjoy my slice of life blog post? You can now support my time in producing it by tipping me the cost of a coffee through a site called Ko-Fi.
I am fuelled by caffeine and cake. Please consider supporting me on Ko-Fi. Thanks to those lovely readers who have already tipped me!