"It's a bit Jaws-esque," Chris says as we climb out of the car.
"What does that mean?" Olivia asks.
"Nothing," I say, shooting a warning look at Chris who really should know better than to mention films about man-eating sharks in front of a six-year-old, even if it was filmed nearby.
Thankfully Olivia is too excited to ask more questions. Instead she sprints up and over the grassy dune, her bucket, spade and plastic turtles swinging by her side.
Our pace is slower, more of a stagger, my mind and body already exhausted from the long drive, Olivia's constant chatter, and the ordeal of losing my cousin and his girlfriend when we stopped off at a supermarket to buy deckchairs. After thirty-two minutes of searching we finally found them in the queue for the doughnuts.
We carry our chairs and parasol and walk towards the beach where the rest of the family are waiting. I look behind to make sure my cousin and his girlfriend are still with us.
"Where are they?" Chris says. "They were here a minute ago."
"They'll find us," I say, hoping that just like the supermarket incident they'll turn up eventually.
"The chairs are here," Mum shouts when she sees me. "At last."
She takes them from me and hands them out to the family. I sit down on the sand, taking a few deep breaths, then take my book out of my bag, and open the page.
"Auntie Liz! Let's go in the sea."
I close my book and follow Olivia down to the water. The waves are strong, foaming and crashing onto the shore. "It's a bit choppy," I say. "We'll just paddle."
It would be impossible to do anything else for fear of being swept out to sea. A few surfers are enjoying the big waves, the rest of the beach tiptoe on the edge. The lifeguard sits on top of his tower, the red flag warning fluttering in the breeze.
"I want to go in," Olivia shouts, running in.
A wave lunges for her. Chris moves quickly, lifting her out just in time. She laughs loudly. "Do it again." As each wave breaks, Chris lifts her into the air. This goes on for a long time.
Just as I'm thinking of heading back to my book, a huge wave hits Chris, and he falls backwards, dropping Olivia.
I run forward, but I'm not fast enough. Olivia looks at me. I look at her. Then an enormous wave swallows her up. I can't see her. I can't see her for what feels like forever. I stand still, eyes scanning the water, wondering where she'll pop up.
The wave recedes, and there she is, eyes squeezed tight, face covered in sand, hair plastered to her face. She takes a deep breath and then starts screaming. "I hate sand in my eyes."
Once all the grains have been removed she blinks and smiles. "Auntie Liz," she says. "I've never seen you move that fast."
"Bloody hell," Chris says to me. "We've only been here for half an hour and we've already almost killed her."
"You dropped her," I remind him. "Not me."
"Shall we build a sandcastle?" Olivia says.
We spend the rest of the afternoon building sandcastles on an industrial scale, mum and the family watching from their deckchairs, my cousin and his girlfriend sleeping on the sand. Just as I'm packing away the bucket and spade and plastic turtles, there's a commotion further down the beach.
"I wonder what's happening," Chris says.
"Perhaps someone's let their niece get swept out to sea," I say.
"No-one would be that silly, Auntie Liz."
People are shouting and running from the water, panic on their faces.
"Get out of the water."
"Shark attack!"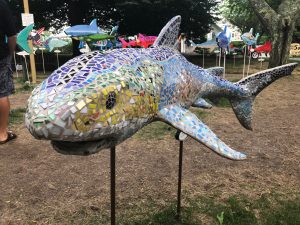 A Great White has attacked a seal.
"A shark's had its dinner," Olivia says, clearly unfazed by the incident.
All I can think about is the poor seal.
"There's been a few sightings this week," a man tells us. He shrugs his shoulders in a what do you expect kind of way and points to a sign at the edge of the beach.
'Preferred feeding ground for Great White Sharks' it says and suggests visitors be smart and download the Shark App for updates. It's a bit late for that now.
While people are taking photos and filming the poor seal's demise (which later make it onto TV news), we distract Olivia by burying her in the sand.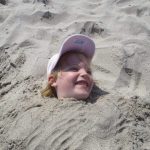 "I told you it was Jaws-esque," Chris says.
"You had a point," I say.