It's August when I walk into a local pub only to come face-to-face with a life-sized Santa Claus.
'Never!' I say to Chris. 'That's just wrong.'
Being forced to confront Christmas so early in the year immediately sends me into a panic. I stand in the doorway, in a thirty-degree heatwave, my heart racing, worrying that I should be getting organised for the festivities. 'Santa should not be allowed out in summer,' I say, hoping that I'm loud enough for the manager to hear.
I order a large drink and go and find a seat at the other side of the pub, as far away from Santa as possible. But there's no escaping Christmas. The usual burger and chips menu has been covered with pictures of turkey, stuffing and sprouts.
'Who plans Christmas in August?' I wail. 'Who would do that?'
Chris studies the menu. 'It sounds good though. Shall we book?'
'Too early,' I say. 'I don't want to think about Christmas till at least November.'
'Are you sure? After last year your mum did suggest eating out.'
I think back to the drama of last Christmas with the under-cooked meat and incinerated Yorkshire puddings. Perhaps we should think about booking somewhere but not just yet. 'Too early,' I say again.
On the way out, Santa is still there and I'm still shocked and appalled, so I take a quick photo, and for the rest of the week show it to friends, family, work colleagues. 'Can you believe it?' I ask. 'In August!'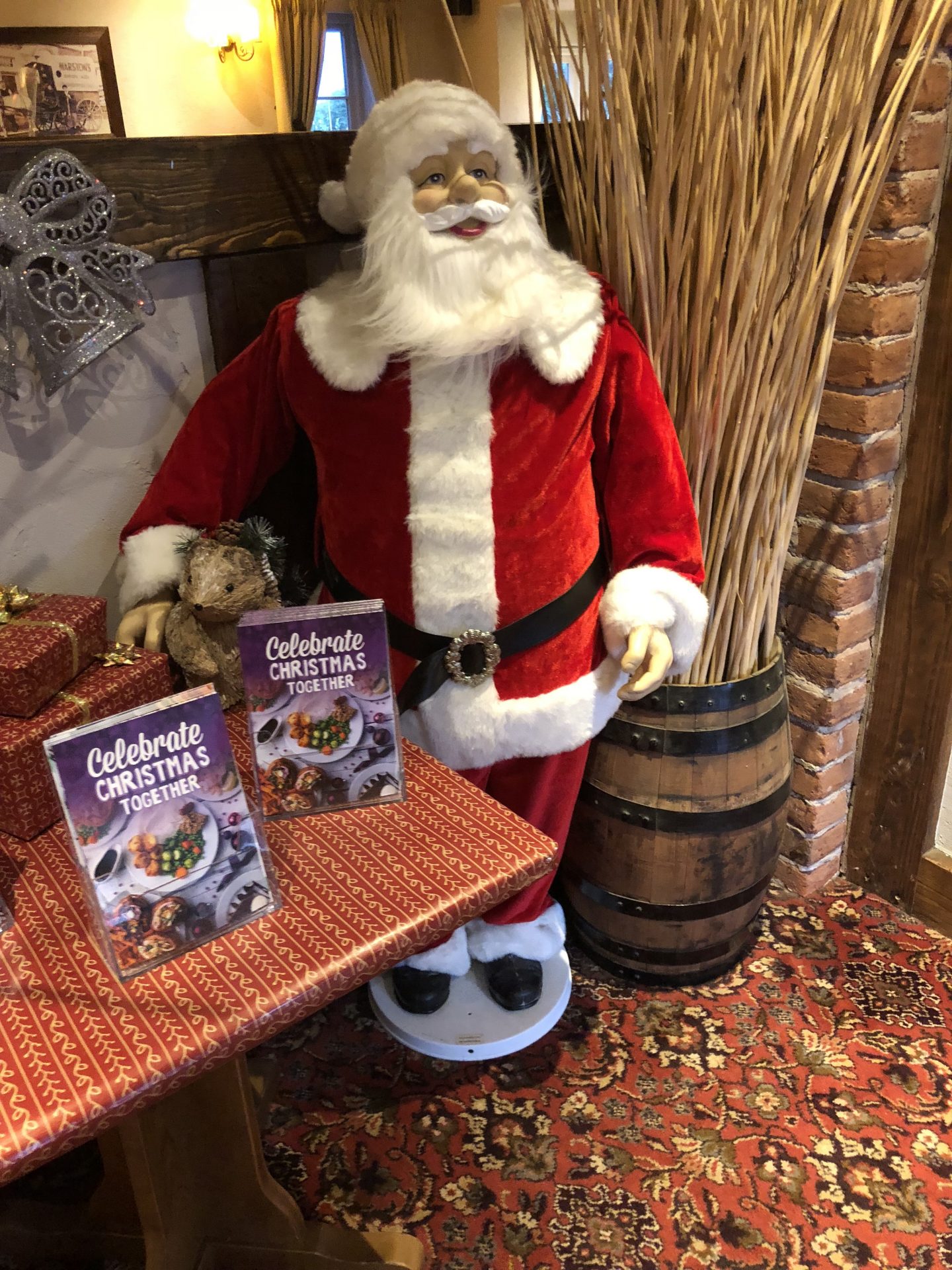 I'm reluctant to make a return visit to the pub, but I do a month later and by then Santa has disappeared, as have the festive menus. It's like Christmas has been and gone. 'It's like he was never here,' I say, and check my phone to prove to myself that I haven't been dreaming.
It's not until mid-October that Christmas is mentioned again. This time, it's my mum. 'I can't do Christmas this year,' she declares. 'There's too many of us. It's too much.' Her voice is rising, just the mention of Christmas sending her stress levels soaring.
'We'll eat out,' I suggest.
'We've probably left it too late.'
'We haven't.'
She doesn't look convinced, so I grab my phone and start calling a few restaurants, admittedly a bit embarrassed at having to think about Christmas in October. 'I know it's early,' I say when a woman answers, 'but are you taking bookings for Christmas yet.'
She laughs. 'We're fully booked.'
'Really?'
'We get booked up on Christmas day for the year after.' I am stunned into silence. I hang up and tell Mum.
'Told you,' she says, and flashes her I-told-you-so-look that she has perfected so well.
'That's just because it's a popular restaurant,' I say. 'I'll try another.' That one is booked up and then another and another. I spend the next hour on a mission trying to sort Christmas dinner. Everywhere is booked.
'We start taking bookings in the summer,' one restaurant says.
'You're far too late.'
'Do you mean for 2019?'
Finally, I try the pub with the life-sized Santa. 'You need to book in August,' a man tells me. 'Or you'll miss out'
Defeated, I hang up. I'm just about to start ranting about Christmas and how stressful it is when my sister turns up. 'I'll do Christmas dinner,' she says.
Mum and I stare at her. 'You can't cook,' I say, not wanting to point out her failings but feeling I should.
'I can try,' she says.
'Chris will do it,' I say.
'Don't drop Chris in it,' Mum says. 'That's not fair.'
'We can all cook,' Sarah suggests looking directly at me. 'Can't we?'
So, on Christmas Day, I find myself in my sister's kitchen cooking with the mother, sister and husband, while the rest of the family sit and wait for their food. I'd like to say it's a scene of domestic bliss, but it isn't.
'The carrots aren't cooking!'
'The gas isn't on!'
'I've forgot the stuffing.'
'No! I love stuffing.'
'Where did you put the pigs in blankets.'
'Did I buy any?'
'Too many cooks,' Dad says, coming into the kitchen and walking straight back out.
I'm given the job of stirring the gravy, but after a few stirs I get bored, my mind wanders and before I know it, I've dropped the spoon into the pan. 'Shit,' I say, grabbing another spoon and trying to scoop out the first one without burning myself. I just about manage it but then after a few more stirs I do it again. 'Shitting-hell!'
'You've done it again,' Sarah says. 'How can you do that twice?'
'Hardly Nigella,' Mum mutters.
'I was Barnsley and District Inter-schools Cookery Champion 1993,' I tell her.
'Really?'
'Yes. I got a certificate and a photo in the Chronicle. Don't you remember?'
'No,' Mum says.
'You were there watching,' I say, unsure how my mother can forget something so important.
'You must have peaked early,' Chris says. 'Because you're a liability now.'
I'm about to reply that they're just jealous of my cooking credentials but Mum suddenly starts screaming. 'The Yorkshires!' She throws herself at the oven to rescue Aunt Bessie's finest before they are incinerated.
Minutes later, Christmas dinner is served. 'If there's a metallic taste to the gravy blame Liz.' Mum says as she breezes into the dining room, gravy boat in hand.
Somehow the dinner is a triumph and the gravy, if I do say so myself, simply spectacular.
'Same time next year,' Mum says, looking at my sister hopefully.
Sarah takes a sip of Prosecco and pretends she hasn't heard.
'Restaurant bookings open in August,' I say. 'We'll eat out.'