'We need a day out.' Mum phones to tell me. 'We need to go out and eat something. All of us. We've not had a meal out since March.'
'Where do you want to go?'
'Somewhere outside. It has to be outside. I'm not doing the indoors anymore.'
I look out of the window. The sun is shining, and it's already hot. I've heard on the radio it's going to be the hottest day of the year. Thirty degrees. Eating outdoors is a great idea.
'We could go to York Marina,' I say. 'We can sit outside at the café overlooking the river.' In my mind, I'm already there, relaxing on the riverbank, drink in hand.
'What time shall we pick you up?'
'Not today,' Mum says. 'Your dad's got his list of jobs. He's clearing out the shed and sorting the patio.'
'Oh.' I can't help but feel disappointed. 'When then?'
'Tomorrow,' she says, her voice bright. 'It's something to look forward to.'
When tomorrow comes, I hear the rain before I see it, lashing against the window. The temperature plummets and the heating kicks in.
Mum phones before I'm even out of bed.
'Are we cancelling?' I ask.
'No,' she says. 'Layer-up. We'll be fine with big coats and umbrellas.'
'Really?' My mum is not usually the outdoorsy type.
'We need a day out,' she says, sounding almost desperate. 'Are you ready? We'll need to leave early to miss the crowds.'
I'm not sure many people will head for the riverbank on a rainy day, but I get up and get ready, determined to have a rare and enjoyable family day out.
Within half an hour, we have dogs and parents in the car and are on our way. Rain splatters the windscreen.
Chris looks at his phone. 'It should stop raining in York at ten o'clock,' he informs us. 'It's better weather the further east we go.'
'We're going north,' I say.
'Well, it will only be slightly better.'
'Have you got that thing for Archie?' Dad asks. 'To shut him up when he barks?'
From the back of the car, Archie barks.
'Yes,' I say. 'But it's not on yet.'
'What is it?' Mum asks.
'An anti-bark collar,' I tell her. 'If he tries to bark, it'll squirt citrus. The smell distracts him.'
'So, he'll be quiet?'
Archie lets out another bark.
'In theory, yes.'
'As long as we don't run out of citronella spray,' Chris says, shaking the bottle.
'That's wonderful,' Mum says.
'Get it switched on,' Dad says.
When we pull into the car park, the torrential rain is easing, becoming more of a drizzle, but it's blustery by the river.
'They have a marquee.' Mum points to a bit of fabric flapping in the wind. It has no sides, but it has a roof. 'It's something,' she says, speed-walking towards it, on a mission to get the best seats in the house.
'Get back!' A woman comes out of nowhere, waving her arms. 'You've crossed the line. Go back. Go back.'
Mum looks startled but rushes to the right side of the line — a one metre bit of masking tape on the floor.
Archie pulls at his lead, growling at the woman.
'I need your details,' she growls back.
I step forward, making sure I do not cross the line. I open my mouth expecting the numbers to roll off my tongue, but my mind goes blank. '0778… Sorry, no, it's 0788…'
The woman glances at her watch.
I turn to Chris. 'What's my number?'
'I don't know.'
I have another attempt. 'That's definitely it,' I say, not sure at all.
She writes it down.
'Don't you know your number?' Mum says, shaking her head and giving a disapproving look, like I'm going to bring the entire track and trace system to its knees.
We take a table under the marquee, looking out at the murky waters of the River Ouse.
'I hope I've given the right number. Should I go back and check?'
'No!' Mum shouts. 'You can't cross that line. You can't go back.'
In my mind, I go over the number. 'I think it was okay… She put me on the spot, one question too many for a Sunday morning.'
The woman returns to take our order. Archie barks and the collar squirts citronella. It's strong stuff. He shuts up.
We eat our breakfast without a sound from either of the dogs. They curl up at our feet like they're the best-behaved dogs in the world.
'Aren't they good,' Dad says, sounding surprised.
'Don't speak too soon,' I say. 'There are no other dogs here yet. That's the real test.'
I sit back in my chair and watch the world go by. Lots of people are dressed in blue, with nautical-themed clothing. 'They're all very boaty people,' I say. 'It's like Howards' Way.'
'It is a boatyard,' Dad says. 'There's Tom.'
'Tom! We're going to lose the boatyard,' I say. 'Wasn't that the gist of every episode?'
But there is a Tom, and Dad is on his feet, rushing over to greet him.
'Look at him,' Mum says. 'He loves coming here.'
Dad is nodding and smiling. Whenever he's near a river, he comes over all sociable, chatting to everyone like he's the captain of a cruise ship. Usually he doesn't say much at all. Anything, really.
'He's too close to that man,' Mum says, nudging me with her elbow. 'It's not two metres.'
Dad is practically embracing Tom. 'He needs to back off.'
He returns to the table and we tell him off for his recklessness and order another round of tea.
'Isn't this lovely?' Mum says, and just as the words are out, another dog strolls into the café. Archie spots it and barks three times. The collar gives three squirts of citronella. He licks his lips and shuts up.
'Good boy,' I tell him, feeling for once like a proud dog owner.
Just as the tea is arriving, another dog arrives and then another. Citronella bursts from the collar. It quietens the dog, but my chest is tightening — aerosols and perfumes trigger my asthma. I have an overwhelming urge to cough. I daren't. Not in public. Not in the middle of a pandemic. I hold it in, my eyes burning with the effort. Or maybe it's the citronella, I can't be sure.
More dogs and dog owners arrive. A labrador, a spaniel, a poodle. With each new arrival, Archie gets more and more excited. Our supplies of citronella are quickly diminishing. When he spots a shih-tzu, supplies are out. 
Without the chastising scent of citronella, he barks and barks and barks. Most people pretend not to notice, a few send disapproving looks our way.
Chris grabs the dog and takes him to the side of the river. For a minute, I think both might jump in, but they sit down. Chris takes the spray from his pocket and refills the collar.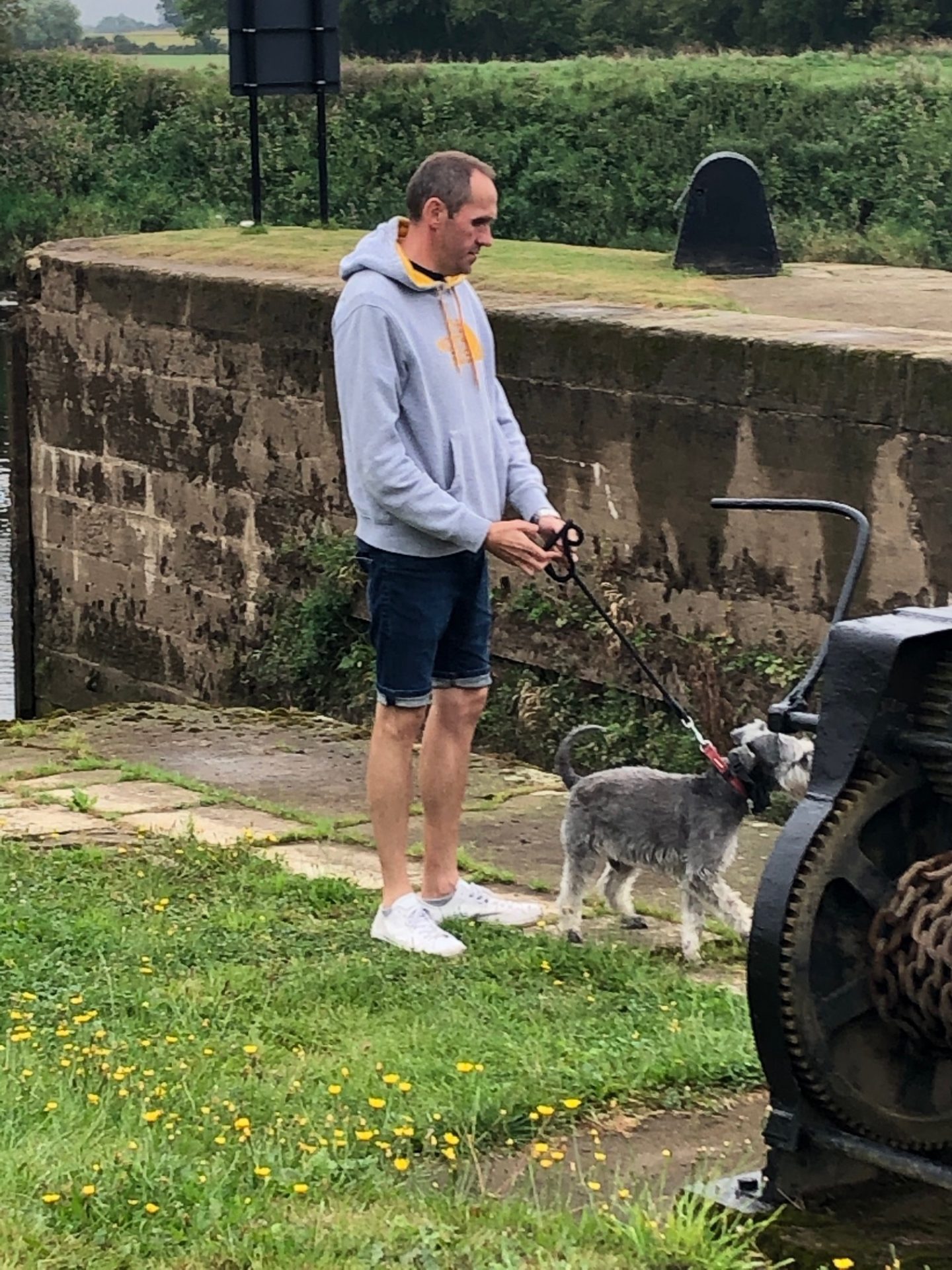 When they return, the dog is slightly less stressed. Chris is shaking. 'He's really wound up,' he says.
'It'll be fine,' I tell him. 'Finish your tea.'
And it is fine for about a minute. But the arrival of not one but two French bulldogs is too much excitement for Archie to bear. He loses it completely and the little dog, who has been curled up under my chair, joins in.
A cloud of citronella bursts from the collar, engulfing us. The strong scent overpowers my lungs. I cough and cough and cough. I feel everyone's eyes burning into me.
'We need to leave,' Dad says, jumping to his feet.
I take a long drink of tea, trying to stop the coughing. 'It's not coronavirus,' I want to shout. 'Asthma.' But I'm coughing too much to speak. I grab the dogs and do the walk of shame out of the café garden. Archie doesn't bark at all. He trots along next to me, stopping briefly to lift his leg and wee on the menu board.
We make it back to the car, just as the rain lashes down again.
'What a lovely morning out,' Mum says.
'Traumatic,' I say. 'None of us have socialised since March. Us or the dogs. We're all rusty.'
'We've done well,' Mum says. 'Haven't we?'
Archie barks and wags his tail.
We drive home in silence, the smell of citrus lingering in the air.
.
Do you enjoy my weekly slice of life blog post? You can now support my time in producing it by tipping me the cost of a coffee through a site called Ko-Fi.
I am fuelled by caffeine and cake. Please consider supporting me on Ko-Fi. Thanks to those lovely readers who have already tipped me!