'I WANT an airport experience,' I tell Chris, three weeks before our summer holiday. 'I want to browse the shops and have breakfast. We need to be ready.'
'I'm always ready,' he says. 'It's you that never is.'
'I will be.' I'm amazed at how confident I sound.
'You say that.' Chris sounds significantly less confident. 'But – '
'I'm organised,' I say. And for the first time in my life, I feel organised. Not quite packed and ready but getting there. Usually, I'm last-minute, frantically throwing clothes into my case, hoping that we make it to the airport on time.
On two occasions (Chris' 40th in Vienna and a summer holiday to Majorca) we've cut it a bit fine and had to run for the plane. This year, it's my fortieth and turning forty is bad enough without all the extra stress that almost-but-not-quite missing a flight brings. So, I'm going for the super organised approach.
I begin by hanging all my holiday clothes in the spare room, next I open my suitcase. It is far too soon to put the clothes into the suitcase, but they are together. This is progress.
When I'm out shopping, I pick up a few bargains, a bikini here, a pair of shorts there Then there's new hand luggage in the sale and some amazing summer dresses which need matching shoes and handbags. With every purchase, I put them in the spare room ready to put into the case.
'I'm ready,' I keep saying. 'Are you?' This is the first time I have ever been ready before my husband and it feels good.
'It'll take me two minutes,' he says. 'Are you taking all this?' He moves past a maxi dress hanging on the door and points at the rest of my dresses, shorts, tops, shoes and bikinis hung and scattered around the room.
'Yes,' I say. 'They're all essential items.'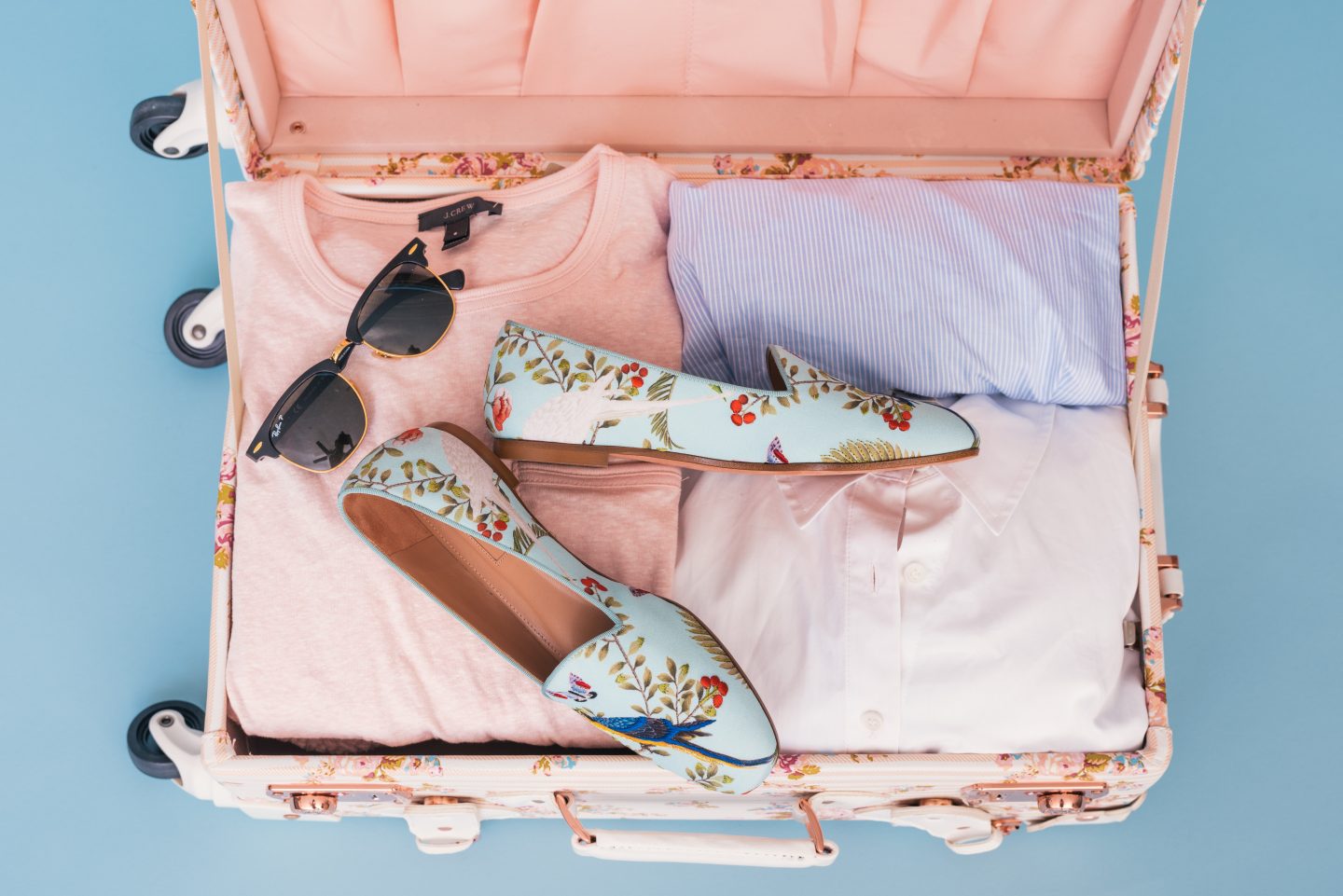 On the day of our departure I drive to work with the radio on. The presenter is talking about holidays. 'A man was over his luggage allowance,' he says excitedly. 'So, he wore seventeen T-shirts on the plane!'
'What a nob,' I say, switching channels. 'Who'd actually do that?'
'Have you packed?' My colleague asks when I arrive in the office.
'Just about,' I say. 'Everything's ready; I just need to put it in my case.'
'What's the weight allowance?'
'20kg and 10kg hand luggage. And I've got new hand luggage,' I tell her. 'In the sale.'
'What size are you allowed on the plane?'
'No idea.'
'You should check. They're strict.'
Immediately I'm on my phone reading the final holiday instructions. The bag should not measure more than 55 x 40 x 20cm. I think of my lovely new bag. A wave of panic washes over me. It might be too big, which means I'll need a smaller bag which means I'll not have enough room for all my essential items.
For the rest of the day, I'm in a panic. I make it home, find a tape measure, and my suspicions are confirmed. 'It's too big.'
I find a smaller bag, stuff it full of clothes. I do the same with the suitcase. 'I'm going to be over the weight limit!'
'How many bikinis have you got?' Chris asks.
'No idea.'
'Are you into double figures?'
'Well…' I think of the bikinis: red and blue, navy blue, bright blue, black, white and blue spotted, the one with the flowers on, the red swimsuit… 'I've lost count.'
'Do you need them all?'
'Yes!'
'What about losing some books?'
'I'd rather lose you than the books!'
'You'll have to leave something behind,' he tells me, glancing at his watch.
I take everything out of the case and put everything, except a vest top, back in again.
'I don't want to stress you,' Chris says. 'But we need to leave.'
'I know!' I stare at the mountain of clothes. I don't want to leave any of them behind.
For the next 20 minutes I race from the bedroom to the bathroom and back again, dragging the case for weigh-in.
23kg.
'I'll lose some running stuff.' I take out four pairs of running shorts and matching tops.
22.8kg.
Out go a pair of shoes and a handbag.
21.4kg.
Out come the extra bikinis. I think of the man on the radio wearing seventeen tops and suddenly it doesn't seem such a bad idea. 'If I wore a few bikinis under my dress, who'd know?'
'You can't do that.' Chris is adamant. 'They'll think you're smuggling something.'
When he isn't looking, I throw a bikini into his case.
20.4kg.
'We need to go now!' He sounds panicked.
'It'll do,' I say, hoping that the airport's scales weigh a bit lighter.
They don't. They're heavier, 20.9 but it's a self-service check-in so I pretend I haven't noticed.
I take a deep breath, watching as my case moves along the carousel. So much for my airport experience. So much for being ready and organised. The bag disappears out of sight. I glance up at the departure board.
'Chris,' I shout. 'We need to run.'