I JUMP out of bed, race to the door and start screaming. Someone is coming to murder me. I scream louder. I'm so loud I wake myself up.
"What're you doing?" Chris is sitting bolt upright, blinking, looking a little startled. 
My heart is thudding in my chest, and all I feel is pure terror. I switch on the light. "I thought someone was here…" I look around, surprised I'm out of bed, but unable to remember who was coming to murder me.
"It's not happening," Chris says. "And will you turn that light off?"
I stand in the doorway, feeling hot and confused. It takes me a while to realise that it's all been a bad dream. I take a few deep breaths, wait for the panic to subside, then turn off the light and go back to bed.
The next day I don't feel well. All of my body aches. I feel drained, miserable and struggle to string a sentence together. I put it down to fatigue at returning to running the week before.
On the drive home I eat an apple. The apple doesn't agree with me and my stomach swells so much a woman in the local Co-op asks when my baby is due. After the Co-op incident, I call at my mum's. "I don't feel well," I say, hobbling in, rubbing my stomach, and hoping for sympathy.
"Have you put on weight?" Mum asks, staring at my stomach.
"No," I say. "It's the apple."
"Really! Could an apple do that?"
"I don't feel well," I say again, but no one is listening, let alone willing to help, so I soldier on. The horses have to be fed. I need to work on my master's degree and one of the academics from work is on the BBC's Who Do You Think You Are so I want to promote it on social media. I manage to cobble something together and then drag myself upstairs to bed.
Two hours later, I'm at the door, screaming my head off. Whoever wanted to murder me the night before is back.
This time, Chris doesn't say anything. He just pulls the covers over his ears and rolls over.
I climb back into bed, which is when the pain in my stomach explodes. I dash for the bathroom. I spend the rest of the night dashing between bed and bathroom and back again.
"You're not going to work tomorrow, are you?" Chris asks after my fourth visit.
"Yes." I nod. "I'm fine."
After the eighth visit I concede that actually I might struggle to make it into work. "I need medical help," I say. "We need to phone 911."
"We're not in America anymore," Chris says.
I look out of the window into our back garden, the sun has risen and next door already has her knickers out on the line, fluttering in the breeze.
"I know we're not in America," I snap, wishing I was. "What's that NHS number?"
A quick Google search and I realise it's 111. While Chris takes the dogs out for their morning walk, I make the call. I lie in bed, answering lots of questions about my health and symptoms.
"When did it start?" The voice on the other end of the phone asks.
"Last night."
"Are the whites of your eyes yellow?"
"Not sure," I say, because I can't be bothered getting out of bed and looking.
"Do you think the whites of your eyes have a yellowish colour to them?" The voice says again.
"No," I say. "They're fine."
"Are you answering that because you've looked?"
"No. I've not looked." I am sprawled out in bed, barely enough energy to move.
"Could you look?"
I force myself to my feet and stagger into the bathroom. I look into the mirror. Without my glasses or lenses, I am a blur. I move to within an inch of the glass so I can see my eyes. They are bloodshot and tired. "They look normal," I say, and stagger back to bed.
We go through more questions. "Have you returned from overseas within the last four weeks?"
"Yes," I say. "America."
"Okay," the voice says, and the ways she says it, I know it's not okay.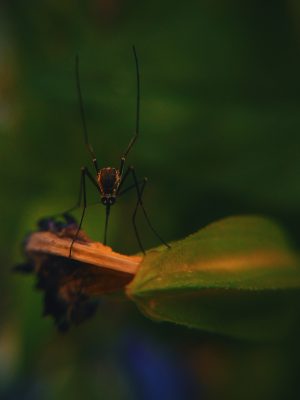 "Were you bitten by any mosquitoes?"
"Yes," I shout. "I was eaten alive."
"Have you experienced any unusual behaviour?"
"Yes," I say, thinking about the person coming to murder me. "I've been hallucinating."
"Is that normal, for you?"
"No, it's not," I say. "Of course it's not normal!"
The voice tells me to seek medical help immediately, and if I have a seizure or become drowsy I should call 999.
I put the phone down. "Chris," I shout. "I've got Malaria."
In the doctor's waiting room, I slump on a chair, hoping that I don't have to dash for the toilet. "I've got Malaria." I want to tell everyone so they let me jump the queue, but I don't because I am British and jumping a queue would be frowned upon, even if you've got a tropical disease.
"Have you been anywhere exotic?" The doctor asks when it's finally my turn.
"America," I say.
He shakes his head. "That's probably not exotic enough."
"Right," I say, feeling a bit daft at my misdiagnosis.
He explains that I have contracted some bacteria either hand to mouth or airborne. "We can't tell what it is until we do tests, but you'll need a week off work and it could take three weeks to get over."
My heart sinks. I do not want to have time off work. I want to be fit and healthy and working and running, not stuck in the house with a stomach full of nasty bacteria.
That evening, Mum calls round with Olivia my niece. "We'll not get too close," she says, hovering in the doorway, and throwing me two packets of digestives. "In case you want to eat something."
"It's not Malaria then?" she asks.
"No," I say. "Although I didn't tell the doctor about hallucinating."
"What's hallucinating?" Olivia says.
"Auntie Liz was running round the house screaming," Chris says. "While she was still asleep."
"Really?" Olivia asks.
"I've never done that before."
"You have,' Chris says. "Remember that time you tried to jump out the window."
"Once then."
Olivia looks at me, tilting her head to one side. "Auntie Liz, why did you try to jump out of the window? Why were you screaming?…Are you nuts?"
"Yes, she is nuts," says Chris, before I can answer.
Olivia laughs. "Nuts," she says. "Auntie NutsNuts."