I stand in front of the mirror feeling dizzy and a little sick. At first, I thought it was the light catching on my hair and making it shine. I even thought it was my natural blonde starting to come through after weeks of lockdown. But, on closer inspection, I realise I am wrong.
'Chris,' I say. 'Look at this.'
He comes into the room. 'When did that happen?'
Before the virus, there'd been one or two strands, hardly worth bothering about. But there's no ignoring the recent ones. They sprout from my head, demanding to be noticed. Almost overnight, it's like they've taken over my scalp.
I stare into the mirror and an older version of me looks back.
'It's the stress. It has to be the stress!'
I grab my phone and do what I always do in times of emergency.
'Dad, it's me.'
'She's not in,' he says.
'Not in?'
'No. She's gone to the garden centre. She'll be back in September.'
'That's not essential. What's she doing?'
'Bedding plants,' Dad says, as though that explains everything. 'It'll take more than a global pandemic to stop your mother from getting her geraniums.'
I hang up and take another look at my hair. My heart is beating quickly, the panic overwhelming. Desperate times call for desperate measures, so I call my sister.
'I'm going grey,' I shout.
'What?'
'My hair!'
She doesn't say anything.
'Every new bit of hair coming through is grey. It's the stress.'
'You're going grey because you're forty-one,' she says.
'I'm not forty-one! I'm forty-and-three-quarters and it is the stress!'
'Well calm down. Or you'll end up completely grey.'
'How do I stop it? Can I stop it?'
'I don't know,' she says. 'I've got enough to worry about with my own roots. Although they are not grey. Definitely not.'
I get off the phone and consult Google. Can stress cause grey hair?
Yes. Stress is terrible for the body. Stress has the power to strip your full head of colour, not to mention causing strokes and heart attacks. Stress is a nasty, evil thing.
I take a deep breath. 'I need to de-stress,' I tell Chris.
He's sitting at the dining room table, staring at a spreadsheet. He looks as stressed as I feel. 'Can you do it upstairs? I've got a call.'
I go back to Google to find out the best ways to de-stress. 'I'll do some yoga,' I say, but he's not listening.
I set up my yoga studio on the landing, with the dogs watching from the top step. I find an online video, a twenty-six-minute stress melt — perfect, it says, for these challenging times.
Why it's precisely twenty-six minutes, I do not understand. Perhaps there's some scientific evidence showing that twenty-six minutes is the ideal time to melt away the stress and strains of lockdown life. Maybe it should get a mention on the briefing.
The yoga class is led by an American woman.
'Well done, y'all,' she says. 'That's sweet. You're doing sweet.'
Everything is sweet. I can feel my blood pressure rising every time she says it. I try to focus on the movements and not the number of 'sweets'.
I'm in down dog position when one of my dogs comes closer, trying to sniff my face. 'Get away,' I tell him. He moves in front of the screen, fascinated by yoga woman.
'Let your mind go.' Her voice is calm and soothing. 'Focus on your breathing.'
I breathe in and out.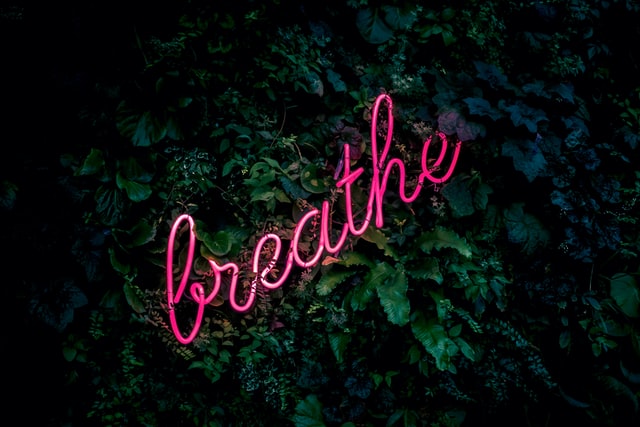 'Disconnect your mind from your body. And let your mind's eye fly to a place of peace and tranquillity. Wherever you want to go.' She takes a deep breath. 'In a world of uncertainty, you can choose how to respond. You can choose to be calm.'
I lie on the carpet, with the dogs inching ever closer, and just as I'm severing mind from body (and in my mind boarding a plane to Greece) my phone rings. I jump up, my heart rate soaring.
'I'm back,' Mum says. 'Did you want me?'
It takes a few seconds for my body and mind to reconnect. For those few seconds, it's like everything is fine in the world. And then it all comes back to me. I can feel the colour draining from my hair.
'Are you there?' Mum says. 'I've been to the garden centre. I've got some plants for you.'
'What are you doing risking your life at the garden centre?'
'Alan Titchmarsh says it's an excellent idea. Being in the garden is good for the body, the mind, everything.'
'Mum, you're seventy. You're at risk.'
'I'm not seventy for a few months.'
'Yes, but Mum, you need to be careful.'
'Oh, Elizabeth!' She only calls me that when she's cross. 'I've had a lovely afternoon with the bedding plants.'
'I'm worried,' I say. 'My hair's going grey.'
'You're worrying too much.' She sighs. 'I'll go grey worrying about you worrying too much.'
'Why aren't you grey already?' She's thirty years older than me and only has one or two strands.
'I think you take after Dad. He went grey around the time you were born… You need to calm down.'
'I'm trying. I'm in the middle of yoga.'
'Good. I'll leave you to it. You should think about doing some gardening. The bedding plants look lovely. All that colour and life. It's wonderful.'
I hang up and return to the yoga. Just as I'm trying to float off to a Greek island, there's a knock at the door. The dogs start barking.
'It's a delivery,' Chris shouts. 'I'll get it.'
The barking is too much. I peel myself from the floor and go downstairs.
'Shall we sit out for five minutes?' I say.
I make us both a cup of tea and we sit on the patio in the sunshine, listening to next door's water feature. I've never made time for sitting in the garden and relaxing. I can see why Mum loves it. It does feel like the stress is melting away.
I close my eyes. I relax.
And then there's a knock at the gate. Mum peers over the top. 'Only me,' she says. 'I've got your plants.'
I run my fingers through my greying hair. I think about yoga woman's words of wisdom. 'In a world of uncertainty, you can choose how to respond. You can be calm.'
I take a deep breath, then I go into the shed, pick up a trowel and start digging.
.
Don't miss a post
Sign up to my newsletter and receive my Slice of Life blog posts directly to your inbox. All you need to do is complete the sign-up form at the bottom of the page.
Do you enjoy my weekly slice of life column? You can now support my time in producing it by tipping me the cost of a coffee through a site called Ko-Fi.
I am fuelled by caffeine and cake. Please consider supporting me on Ko-Fi. Thanks to those lovely readers who have already supported me!