'We need to do something for your birthday,' Chris says, the day before I turn forty-one.
'This time last year, we were in Crete,' I say.
'I know.'
'We had that meal looking out to sea, and that amazing chocolate pudding.'
'The grill pit,' Chris says. 'I ended up having to cook at the table.'
'And Olivia FaceTimed to sing happy birthday.'
Chris smiles. 'She was in Turkey and said she could hear us across the water.'
'The entire day was perfect.' It had made turning forty bearable.
We'd been into Agios Nikolaos during the day, had lunch and drinks and ice cream, and seen the statue of Europa, then strolled around the shops. Chris said that if I saw anything I fancied, he would treat me as an extra birthday present. But when I'd spotted a beautiful 5,000-euro bracelet with matching chain and earrings (also 5,000 euros each), he'd changed his mind.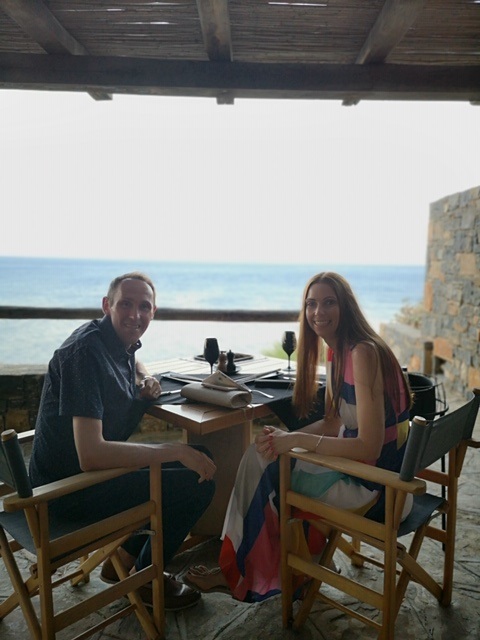 I sigh. 'If only I'd known then what would happen to the world, I wouldn't have had a meltdown about turning forty.'
'Probably best not to know.'
'Forty seemed momentous,' I say. 'Now I'm on the cusp of forty-one, it's young. And it seems such a long time ago.'
I stare out of the kitchen window, take a drink of tea, remembering the happy times of my youth.
'I'd decided that forty was going to be a fun year and the start of a fun decade. All about fun. It's not working out quite how I'd hoped.'
'We can have fun,' Chris says, nodding enthusiastically like he's trying to convince himself. 'What would you like to do?'
'Go to Crete and buy that expensive jewellery.'
A look of panic flashes across his face. 'What about a meal out?'
'No!' Now it's my turn to panic. 'I'm not ready for that yet.'
'Something round here, then.'
'Somewhere without people,' I say. 'Somewhere tolerant of unruly dogs, because they'll have to come too. And somewhere nearby, so we'll not have to use public toilets.' 
We sit and think. 'A mission to Mars would be easier,' I say, making us another brew.
While I'm waiting for the kettle to boil, inspiration strikes. 'Holmfirth!'
'What about it?'
'We can go. And walk and take a picnic. It'll be great.'
'Sounds like a plan.' Chris looks relieved.
On the morning of my birthday, I go downstairs to make a cup of tea. I stand in the kitchen with the sunlight streaming in, enjoying a moment of calm.
I take time to notice my surroundings because that's what mindfulness is all about. And after all the chaos, I'm trying to be more mindful. I look around the kitchen. And that's when I spot the scratches on the new floor — under Chris's chair. It's like someone has taken a knife and repeatedly stabbed it into the floor.
'Chris!' 
He comes downstairs. 'Happy birthday,' he says. 'It's early.'
I point to the floor. 'Look what you've done!'
He crouches down to investigate. 'How's this happened?'
'You,' I say. 'It's your fault. Scraping your chair.' I go to my side of the table. There are no scratches anywhere.
'The new floor,' he says, looking like he might cry.
'Yes, the new floor! You've ruined it.' And that's when my tears start. I know it is only a floor and there are much more upsetting things going on in the world, but suddenly it's the worst thing ever and my husband is a chair-scraping monster, and surely this is grounds for divorce.
'Don't cry,' he says. 'It's your birthday.'
'Yes! It's my birthday. And look what you've done.' I storm out of the room, turning back to shout. 'And I'll cry if I want to.'
Upstairs, I stand in the shower and sob, letting the hot water wash away my rage. It's the first time I've had a good cry in ages. I cry and cry and cry, my tears mixing with the water. I can't help but wonder how a bit of laminate could provoke such a reaction. When I step out, I feel better — revived, almost.
'I've made a picnic,' Chris says when I go downstairs. 'Are we still going?'
'Yes. I don't want to stay here and keep looking at the floor.'
We drive in silence, park in the car park next to the Co-op. Chris struggles to squeeze the car into a tight spot. I take a deep breath and then another.
He turns the engine off. 'I'm sorry about the floor,' he says. 'I didn't mean to destroy it.'
'You're a liability,' I say.
'I'll sort it.'
'How?' The upset I'd felt about the floor is immediately replaced with a worry about Chris's DIY skills and just how he intends to 'sort it'.
'I Googled it when you were in the shower. WD-40 could help.'
'No,' I say, my heart rate rocketing. 'Promise me you'll not put WD-40 anywhere near that floor.'
'It might help.'
'No,' I say, firmly. 'We'll get a mat.'
And with that decision, I open the car door and step out into society for the first time since March.
The first thing I notice are the people — lots of them — scurrying around, masks on, heads down. It's like the sleepy town of Holmfirth has turned into a sprawling metropolis. 
The second thing I notice are the panicked glances, people crossing over roads to avoid getting within a few metres of anyone else.
I take the little dog and begin speed-walking out of town. 'It's too people-y,' I shout over my shoulder. 'I'm heading for the hills.'
Chris and the big dog walk behind, struggling to keep up.
The first hill is huge, and I wish I'd invested in a pair of crampons.
Mum phones when I'm halfway up, sweating and out of breath.
'Happy birthday,' she says. 'Are you having a good day?'
'Well, I've only cried once.'
'That's good.' She laughs. 'Forty-one! Who would have thought I'd have a daughter so old?'
'I'm up a hill,' I say. 'In Holmfirth.'
'You've gone out? That's wonderful. I'll leave you to it.'
She hangs up, and I return to focusing on the climb. At the top, there's a water crossing with slippery stepping stones to navigate. The little dog hops across and I tiptoe behind.
After that, there's another hill and another and another. I focus on putting one foot in front of the other. With each step, I feel better. The stress of the floor crisis, and the house move and the snagging list and the virus and work and everything else that has been pushing me to the edge these past few weeks and months, eases.
My mind clears.
We reach the trig point and sit and eat our picnic, looking down on the world below. I turn to my husband and hounds.
'This is fun,' I say.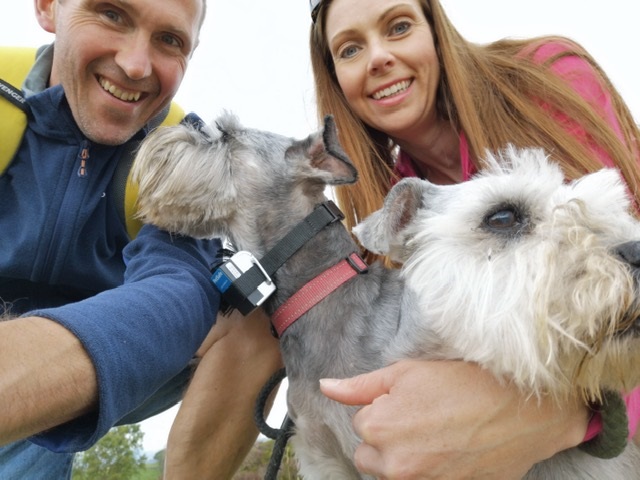 .
Do you enjoy my weekly slice of life blog post? You can now support my time in producing it by tipping me the cost of a coffee through a site called Ko-Fi.
I am fuelled by caffeine and cake. Please consider supporting me on Ko-Fi. Thanks to those lovely readers who have already tipped me!