Summer is my favourite season. There is nothing I like more than relaxing in the garden or on a beach with a good book. It's the time of year when I allow myself the luxury of reading for days on end.
I love it.
Before we go on holiday, I spend ages deciding which books to pack. Once the decision is made, I worry I might run out of books, so I always buy several more at the airport.
On our last holiday abroad, back in the pre-pandemic times of 2019, we left on the day that David Nicholl's new novel Sweet Sorrow came out. Desperate to get a copy, I stormed through check in and security, headed straight for WHSmith and grabbed one of the enormous airport copies.
After loving Nicholl's other books, particularly One Day, and Us, I knew that Sweet Sorrow would be my read of the holiday. It didn't disappoint; it's such a beautiful book.
Chris took a photograph of me reading it by the pool. I was so engrossed that I lost all sense of self.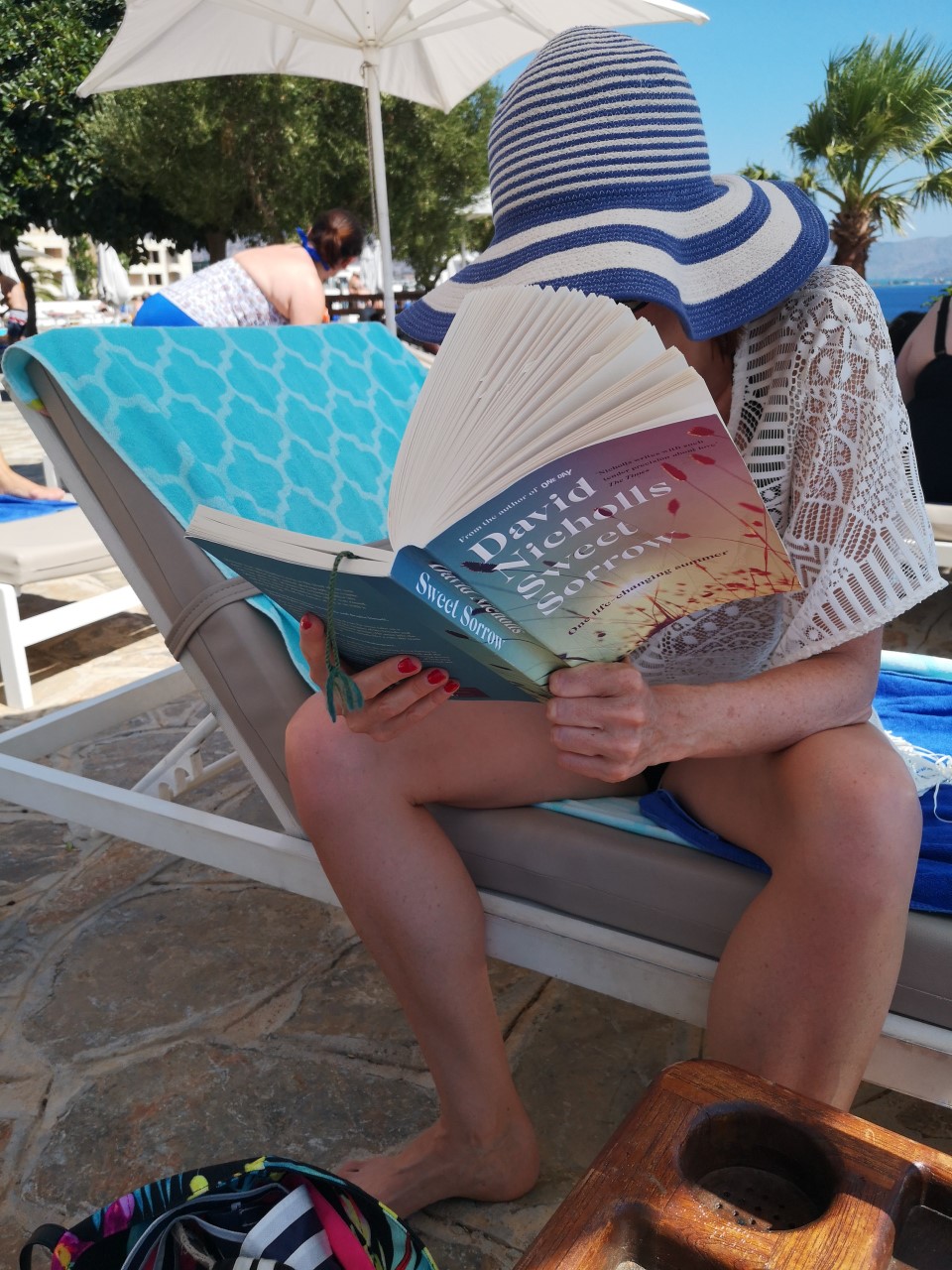 This year, with our geriatric dog, horses and rabbit to look after, we're opting for a staycation. I might not have the scenery of a Greek island, but at least I'll have some good books.
Here are my summer reading choices.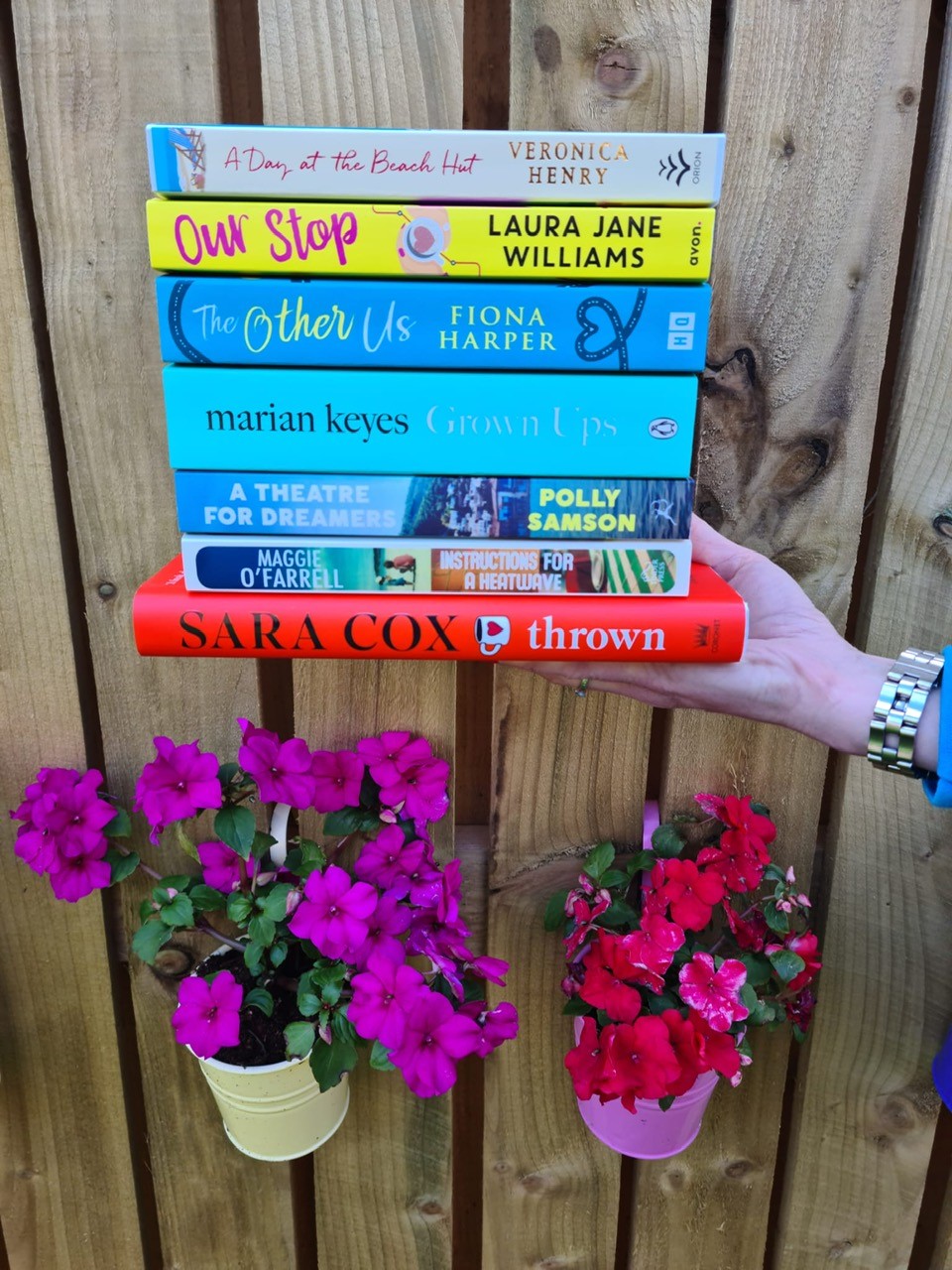 Thrown by Sara Cox
I wanted a book that would make me laugh. And because Sara Cox always makes me smile, I thought I'd start with her debut novel.
The women of the Inventors' Housing Estate keep themselves to themselves.
The dilapidated community centre is no longer the beating heart of the estate that single mum Becky remembers from her childhood.
But the new pottery class she's helped set up feels like it could be a fresh start. And not just for her.
As Becky and her neighbours begin to come together to try out a new skill, unremarkable lumps of clay are hesitantly, lovingly transformed. And so too are their lives – moulding friendships, throwing relationships off-centre, and revealing concealed passions.
But what happens when the cracks begin to show?
Instructions for a Heatwave by Maggie O'Farrell
I've had this book on my shelf for ages. And I love Maggie O'Farrell's writing, so I have absolutely no idea why I haven't read it yet. Plus, I love how authors use heatwaves as a way to increase the tension or create a sense of place.
It's July 1979 and London is in the grip of a heatwave. It hasn't rained for months, the gardens are filled with aphids, water comes from a standpipe, and Robert Riordan tells his wife Gretta that he's going round the corner to buy a newspaper. He doesn't come back.
The search for Robert brings Gretta's children – two estranged sisters and a brother on the brink of divorce – back home, each with different ideas as to where their father may have gone. None of them suspects that their mother might have an explanation that even now she cannot share.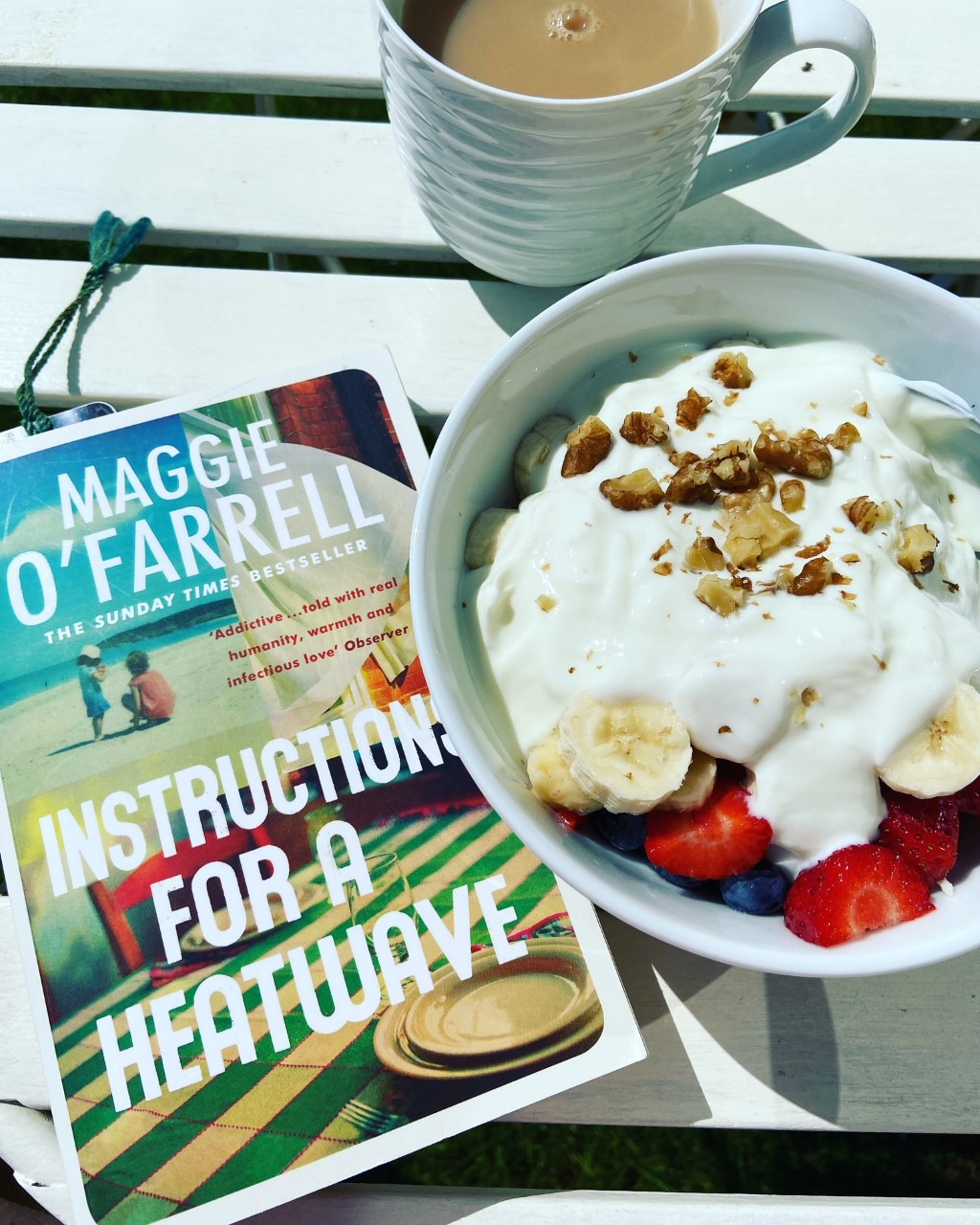 A Theatre for Dreamers by Polly Samson
It was the cover that got my interest in this book and the fact that it's set on a Greek island and that it's a coming-of-age story. One review said it 'transports you to the beauty of a Greek island in summer' and I certainly hope it does.
Erica is eighteen and ready for freedom. It's the summer of 1960 when she lands on the sun-baked Greek island of Hydra where she is swept up in a circle of bohemian poets, painters, musicians, writers and artists, living tangled lives. Life on their island paradise is heady, dream-like, a string of seemingly endless summer days. But nothing can last forever.
Grown Ups by Marian Keyes
I've been reading Marian Keyes for years. Her books are always a delight.
Meet Jessie, Cara and Nell.
Married to brothers Johnny, Ed and Liam Casey. Three very different women tied to three very different men. Every family occasion is a party – until the day the secrets spill out.
Playtime is over. But where are the grown ups?
The Other Us by Fiona Harper
A few years ago, when I was working at Leeds Trinity University, the Romantic Novelists Association held their annual conference on campus. I couldn't resist going along and buying a few books.
I loved the concept of this one — the idea of going back in time to be young again definitely appealed.
If you could turn back time, would you choose a different life?
Maggie's worried her twenty-year marriage to Dan has gone stale.
With a college reunion approaching, she can't help wondering about Jude Hansen, the old flame who asked her to run away with him on the very same night Dan proposed.
When she wakes up one day in her twenty-one-year-old body, she has the chance to find out. A glitch in time has given her the opportunity to live her life again.
Now she stands on the threshold of two very different possible futures – but does she only have once chance at happiness?
Our Stop by Laura Jane Williams
I bought this one for my mum a few years ago so I've been meaning to read it for a while. When I heard that a TV adaptation is in development, I bumped it up my 'to be read' pile.
All anyone wants is to make a connection…
Nadia gets the 7.30 train every morning without fail. Well, except if she oversleeps or wakes up at her friend Emma's house after too much wine.
Daniel really does get the 7.30 train every morning, which is easy because he hasn't been able to sleep properly since his dad died.
One morning, Nadia catches sight of a post in the daily paper:
To the cute girl with the coffee stains on her dress.
I'm the guy who's always standing near the doors… Drink sometime?
So begins a not-quite-romance of near-misses, true love, and the power of the written word.
A Day at the Beach Hut by Veronica Henry
I bought this one on holiday in Devon last summer. It's a collection of stories and recipes inspired by seaside life.
On a shimmering summer's day, the waves are calling, the picnic basket is packed, and change is in the air. It's just the start of an eventful day for a cast of holidaymakers: over one day, sparks will fly, the tide will bring in old faces and new temptations, a proposal is planned, and an unexpected romance simmers…
Escape into the world of sunshine, salty breezes and heart-warming stories, and enjoy recipes from Veronica Henry's own kitchen for sunrise to sunset.
I'm looking forward to getting started on these books. Have you read any?
What's on your summer reading list?