My summer 2023 holiday reads.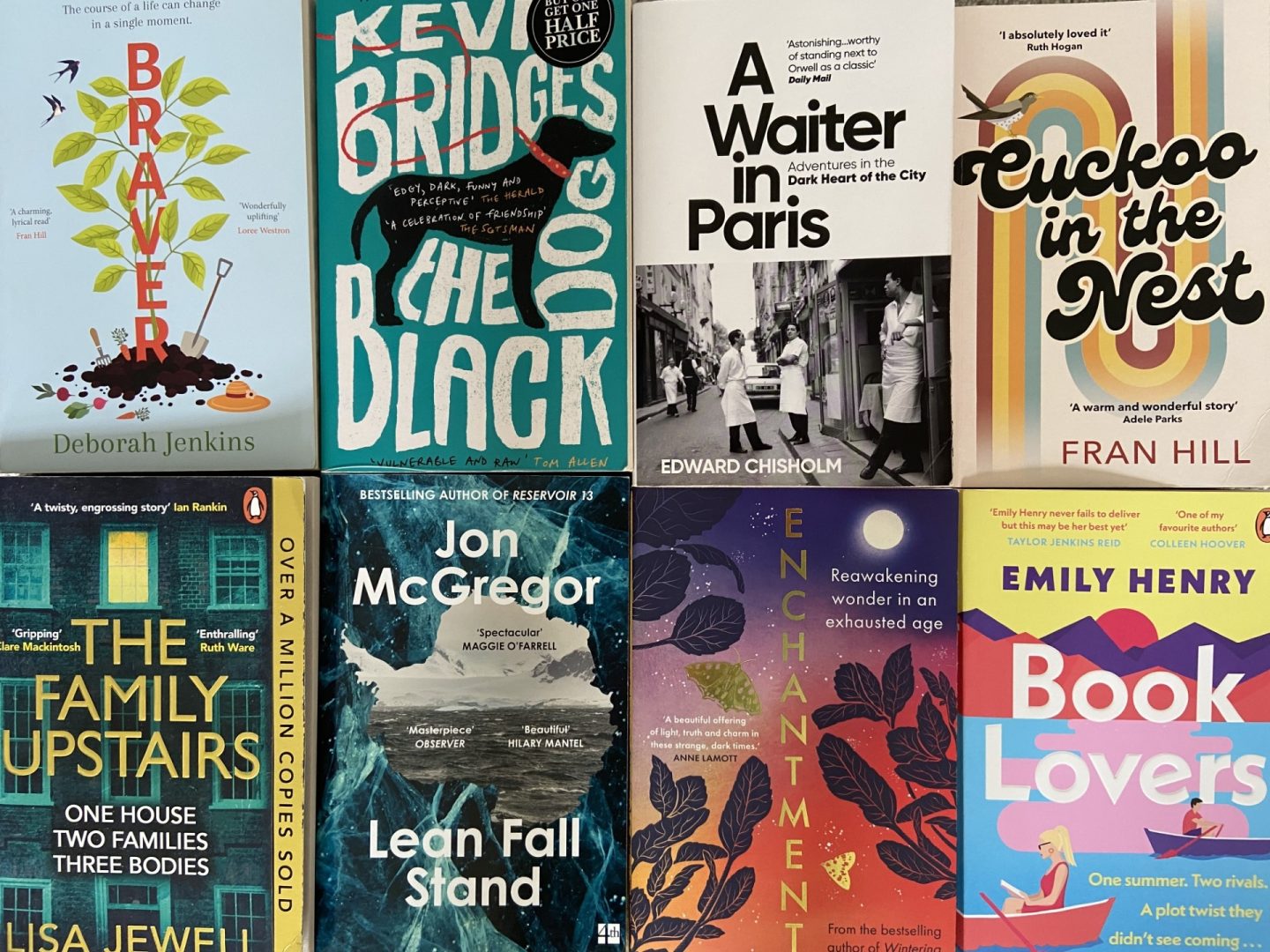 We jetted off to Majorca for a little getaway this summer. It was only a short break (six days) but it was lovely to read and relax.
I read five books. In no particular order, they were:
A Cuckoo in the Nest by Fran Hill
It's the heatwave summer of 1976 and 14-year-old would be poet Jackie Chadwick is newly fostered by the Walls. She desperately needs stability, but their insecure, jealous teenage daughter isn't happy about the cuckoo in the nest and sets about ousting her.
When her attempts to do so lead to near-tragedy – and the Walls' veneer of middle-class respectability begins to crumble – everyone in the household is forced to reassess what really matters.
Funny and poignant, Cuckoo in the Nest is inspired by Fran Hill's own experience of being fostered. A glorious coming of age story set in the summer of 1976.
Braver by Deborah Jenkins
Hazel has never felt normal. Struggling with OCD and anxiety, she isolates herself from others and sticks to rigid routines in order to cope with everyday life. But when she forms an unlikely friendship with Virginia, a church minister, Hazel begins to venture outside her comfort zone.
Having rebuilt her own life after a traumatic loss, Virginia has become the backbone of her community, caring for those in need and mentoring disadvantaged young people. Yet a shock accusation threatens to unravel everything she has worked for.
Told with warmth, compassion and gentle humour, Braver is an uplifting story about the strength that can be drawn from friendship and community.
The Family Upstairs by Lisa Jewell
In a large house in London's fashionable Chelsea, a baby is awake in her cot. Well-fed and cared for, she is happily waiting for someone to pick her up.
In the kitchen lie three decomposing corpses. Close to them is a hastily scrawled note.
They've been dead for several days.
Who has been looking after the baby?
And where did they go?
Two entangled families.
A house with the darkest of secrets.
Book Lovers by Emily Henry
Nora is a cut-throat literary agent at the top of her game. Her whole life is books.
Charlie is an editor with a gift for creating bestsellers. And he's Nora's work nemesis.
Nora has been through enough break-ups to know she's the one men date before finding their happy-ever-after. To prevent another dating dud, Nora's sister has persuaded her to swap her city desk for a month's holiday in Sunshine Falls.
It's a small town straight out of a romance novel, but instead of meeting sexy lumberjacks, handsome doctors or cute bartenders, Nora keeps bumping into…Charlie.
She's no heroine. He's no hero. So can they take a page out of an entirely different book?
Enchantment by Katherine May
Feeling bone-tired, anxious and overwhelmed by the rolling news cycle and the pandemic age, Katherine May seeks to unravel the threads of a life wound too tightly. Could there be another way to live – one that feels more meaningful, more grounded in the places beneath our feet? One that would allow us to feel more connected, more rested and at ease, even as seismic changes unfold on the planet?
Craving a different path, May explores the restorative properties of the natural world and begins to rekindle her sense of wonder. It is a journey that takes her from sacred wells to wild moors, from cradling seas to starfalls. Through deliberate attention and ritual, she finds nourishment and a more hopeful relationship to the world around her.
Enchantment is an invitation to each of us to experience life in all its sensual complexity and to find the beauty waiting for us there.
Chris's reads on holiday were:
Lean Fall Stand by Jon McGregor
When an Antarctic research expedition goes wrong, the consequences are far-reaching – for the men involved and for their families back home.
Robert 'Doc' Wright, a veteran of Antarctic field work, holds the clues to what happened, but he is no longer able to communicate them. While Anna, his wife, navigates the sharp contours of her new life as a carer, Robert is forced to learn a whole new way to be in the world.
Award-winning novelist Jon McGregor returns with a stunning novel that mesmerizingly and tenderly unpicks the notion of heroism and explores the indomitable human impulse to tell our stories – even when words fail us.  A meditation on the line between sacrifice and selfishness this is a story of the undervalued, unrecognised courage it can take just to get through the day.
A Waiter in Paris by Edward Chisholm
A waiter's job is to deceive you. They want you to believe in a luxurious calm because on the other side of that door… is hell.
Edward Chisholm's spellbinding memoir of his time as a Parisian waiter takes you below the surface of one of the most iconic cities in the world and right into its glorious underbelly.
The waiter inhabits a world of inhuman hours, snatched sleep and dive bars; scraping by on coffee, bread and cigarettes, often under sadistic managers, with a wage so low you're fighting your colleagues for tips.
It's physically demanding, frequently humiliating and incredibly competitive. And with a cast of thieves, narcissists, ex-Legionnaires, paperless immigrants and drug dealers, it makes for a compelling and eye-opening read.
The Black Dog by Kevin Bridges
The Black Dog is the exciting debut novel from one of Britain's most-loved comedians, Kevin Bridges.
Declan dreams of becoming a writer. It's a dream that helps him escape the realities of his life—going through the motions at college and stacking supermarket shelves part-time, whilst fighting a battle with the ever-darkening thoughts in his head.
He has his pet Labrador for companionship and his best friend-turned-mentor, a pseudo-intellectual who works as a greenskeeper at the local municipal golf course, both of which help keep the worst of his anxieties at bay. But following a drunken row with local gangsters, Declan's worries threaten to spiral out of control.
James Cavani—Declan's idol and his hometown's claim to fame—is a renowned writer, director and actor. But despite his success, his past hasn't relinquished its hold of him, and through his younger sister's battle with drug addiction, he finds himself returning to a world he thought he had escaped.
At face value, their lives couldn't be more different, but perhaps fate has a way of bringing kindred spirits together—and perhaps each holds the other's redemption in their hands.
Join my reading community.
I am giving subscribers to my newsletter the chance to win one of my and my husband's summer holiday reads.
If you would like to be part of my reading community, you can sign up below.
As well as having the chance to win books, you will get first dibs on my books and writing.