I wake at 4.30am, grab my phone and do what I do every morning — search for an online shop. Most slots between now and Christmas are taken, but I keep scrolling and just as I'm about to give up, one becomes available.
'I've got one!' I say to Chris, who is still sleeping. 'I'm winning at life!'
He grunts and turns over, pulling the sheets further over his head.
Shop secured, I go downstairs, make a cup of tea, and assess the chaos that has become our living room. There are boxes and books everywhere.
I have three and a half hours to sort it all before the removal team arrives. I finish my tea and set to work. I move quickly, packing the books and stacking the boxes.
My aim is to be as organised as possible, which is difficult because it's not in my nature. And given that the move is today, it's a bit last minute.
At six o'clock I realise that Chris isn't up. 'Chris,' I shout. 'Get up!'
'It's only six o'clock,' he shouts back, his voice heavy with sleep.
'I know! And you should be up. We're moving!'
Packing done, I start dismantling the furniture. Then I open every window in the house.
'Why is it so cold?' Chris asks when he finally gets up.
'I'm creating the outdoors indoors,' I tell him. 'So, there's less chance of catching the virus.'
'I'll take the dogs for a walk,' he says. 'It'll be warmer.'
'It's half-past six,' I tell him.
While he's out, I put a mattress cover on each mattress, take the final meter readings, and start cleaning.
Chris and the dogs return from their walk, slightly more awake than when they left, but not by much.
'You need to move quicker,' I tell him.
'I need to go for petrol,' he says.
'Petrol?'
He nods.
'Why didn't you get petrol last night? There's no time for petrol! I have a million jobs for you.'
'I don't want to risk running out,' he says, heading for the door.
'It's almost seven!' I shout after him.
While he drives to the petrol station, I continue my house-move mission. Since getting the keys to our new house a week ago, I've been a one-woman removal team, moving boxes (mainly books) from the old house to the new house in my tiny car. I've done about a thousand trips. Chris, meanwhile, struggled to get the time off work. He's been sitting in the old house staring at a spreadsheet.  
'Why not leave it all to the removal firm?' he suggests.
'I want them in and out,' I tell him. 'Touching as little as possible.'
So, I continue on my own. I move the books. I call the gas and electricity and water people. I master not one but two council tax online forms. I empty the loft, discovering what I think is a body, but is actually a Christmas tree with a receipt showing that the previous house owners purchased it from Woolworths in 1995 for £14.95. I order a skip. I fill the skip. I speak to solicitors and the housebuilder, then talk to the removal team about PPE and how we can all stay safe. I stock up on antibacterial wipes and hand sanitiser and then order face masks.
I get up when the sun rises and don't stop until after it has set. This is a move of military precision and it's coming together.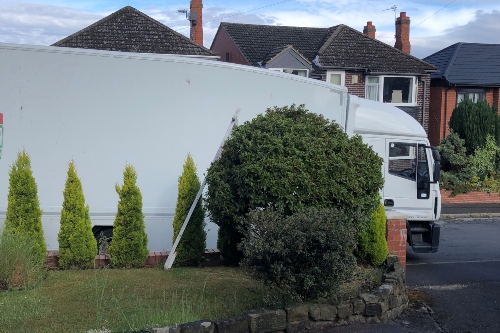 'What needs doing?' Chris asks when he returns from getting petrol.
'Nothing. I've done everything.'
He looks at me as though he can't quite believe it.
'Everything,' I say again. 'There is not one job that I haven't thought of and done.'
'You've done well,' he says. 'Amazingly well. You've not stopped.'
'I know. I'm like Superwoman!'
Feeling organised for the first time in my life, I put the kettle on. It is 7.45am.
As I sip my tea and assess the organised scene before me, a seed of doubt works its way into my mind. 'I've forgotten something,' I say.
'You haven't.'
'I have. There's definitely something… I don't know what.'
It's not until two hours later, when the removal team are mid-way through emptying the old house, that I remember. 'I haven't fed the horses!'
When I arrive, they are standing at the gate stamping their feet and snorting.
'Sorry,' I shout, jumping out of the car. 'I am so, so sorry.'
The nice pony nudges me with his head, but not in the gentle, affectionate way he usually does. This is so forceful I almost topple over. The nasty pony nips my backside. The horse can't control herself and rears up in rage.
'I'm sorry,' I say again.
They barge me out of the way and make the charge for breakfast. I stand and watch them eat, feeling like a failure.
Getting up and feeding the horses has been part of my routine since I was twelve. I would drag myself out of bed and sort them before school. During my teens and early twenties (my clubbing years), I'd turn them out on my way home in the early hours. They have always been my priority. Until now. In the midst of a global pandemic, they are taking second place to the online shop.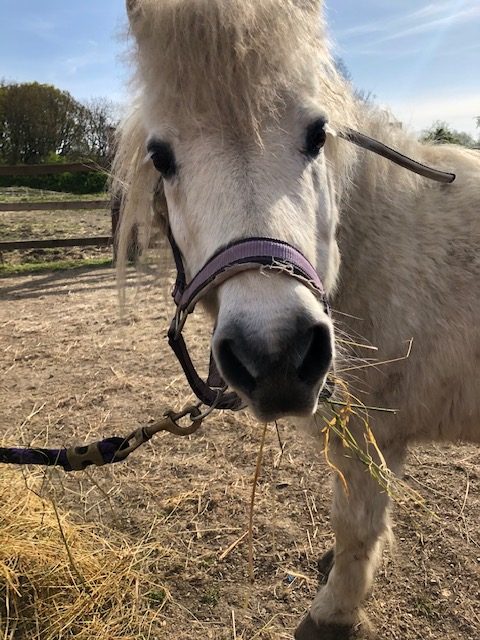 'You're late,' Mum says, heading out on her morning walk. 'I could hear them whinnying from inside the house.'
'Why didn't you call me?'
'I've never had to remind you.'
'I forgot them! I'm such a bad mother.'
Mum stops and stares at me. 'You've a lot on your mind. Moving house is one of the most stressful things you can do, almost as bad as divorce.'
'That's coming next,' I say. 'Once I've recovered from this ordeal.'
'Don't take it out on Chris.' She walks on, leaving me standing in the field.
With the horses now calm and eating, I feel better. I should get back to the chaos of the move, but I can't face it yet. I stand and breathe, enjoying the fresh air, and, apart from the munching of hungry horses, the silence.
The pheasant that has taken up residency in the bushes at the bottom of the field struts around, pecking the ground. He too looks hungry, preoccupied with the hunt for food. He's so preoccupied that he doesn't sense the danger coming his way.
I see it first — a shadow in the undergrowth, a cat, low on the ground, ready to pounce.
Then he spots it, lets out a panicked squawk and starts running and flapping for his life. The cat makes its move and so do I, running and waving and shouting, making it go elsewhere for breakfast.
When the coast is clear, the bird ventures back out. He looks at me. I look at him. 'Thank you,' he seems to say. 'You saved me.'
'It's a good job I was late,' I tell him.
I lock the gate and walk away, happy that my Superwoman status has been restored.
.
Do you enjoy my weekly slice of life blog post? You can now support my time in producing it by tipping me the cost of a coffee through a site called Ko-Fi.
I am fuelled by caffeine and cake. Please consider supporting me on Ko-Fi. Thanks to those lovely readers who have already supported me!