My shorts have shrunk. I stand in front of the mirror, trying to fasten the denim cut-offs that fitted perfectly last summer.
I stretch and pull the material and somehow manage to force the button and hole together. For a second, I feel victorious but then realise that all the fat around my waist has been pushed upwards. I now have a muffin top.
'Chris! Look what's happened.'
He comes running upstairs. 'What's wrong?' he says.
'Either the shorts have shrunk, or I've got fatter.'
He looks at them, tilting his head to one side. 'Are they the ones you wore on holiday last year?'
'Yes!'
'They didn't look like that then.'
'I know!'
Last year, we'd celebrated my fortieth birthday on a former leper colony in Crete (if you've read Victoria Hislop's The Island, you'll understand). But the only way I could cope with becoming so old was by making sure I looked good on the day. It had taken quite a bit of work. In the months and weeks leading up to it, I'd embarked on a healthy eating and fitness regime that had required willpower of steel. I'd lost a stone, felt amazing and been so proud of myself.
Seven weeks into lockdown, and I realise that most of the hard work has been undone.
I turn to look at the shorts from behind. They don't look good. Fat from the top of my legs and bum has been pushed down and is now bulging out below the shorts in two rolls.
'Do you think it's because I've been doing some strength training?' I ask, thinking about the workout with Joe Wicks last week.
Chris laughs. 'No. I think it's because you've been doing reps to the fridge.'
I say nothing. I look at my barely there shorts and bigger body. Life during lockdown has involved less exercise and more eating. But I am not alone in the fridge reps; my fridge reps are his fridge reps.
'Do you feel fat?' I ask.
'I feel chubby.' He pats his stomach. 'We'll have to cut out the chocolate.'
'That's a bit drastic.' I think about our chocolate stash.
While everyone was out bulk buying loo rolls, I'd cleared the neighbourhood of Dairy Milk, Minstrels and Maltesers. They'd been hard to get hold of. I'd had to raid the local corner shop.
'People have gone mad,' I'd told the shop owner, grabbing bag after bag. 'Absolutely crackers.'
'Is that everything?' she'd asked. 'I have some of those enormous bars of Galaxy you like.'
'I'll take them all,' I'd said.
We now have enough chocolate to last the year, if not the decade.
'We can't waste it,' I tell Chris. 'We'll have to take the fitness approach to weight loss instead.'
In the first few weeks of lockdown, I was very focused, running 5k a day and joining in with Joe. But by week four, I'd abandoned them in favour of writing. I've been at my keyboard frantically typing most days since. The only problem is that writing involves several hundred cups of tea and a bar or two of chocolate. Only two, though. I have limits.
But in lockdown, there has been no limit to my snacking. In a world of uncertainty, the fridge runs are my only constant.
'We need to take action,' I say. 'Before it gets out of hand.'
So, on Monday morning, I reintroduce my morning 5k run. Then, in my Zoom meeting with work colleagues, I suggest I write a feature about how to stop snacking.
'I'm sure other people must be struggling,' I tell my colleagues. 'It can't just be me.'
'It's not,' my boss says. 'I'll need a crane to get me out of the house if I carry on.'
'I've been terrible,' I say. 'I've started having brunch (toast with full-fat butter and jam) as well as breakfast and have introduced a cereal course into the afternoon to get me through the daily briefing. Then there's the biscuits while I'm working.'
'A cereal course?' She shakes her head. 'You've taken it to a whole new level.'
'Don't make me feel bad,' I say. 'It's like I'm trapped on the world's worst all-inclusive.'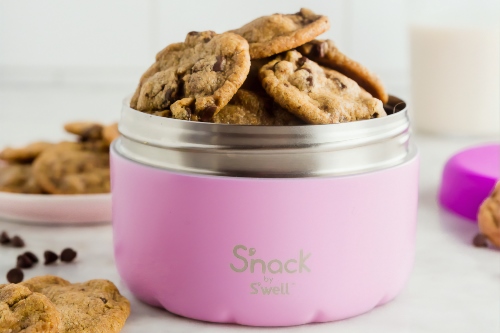 That afternoon, I make a cup of tea and settle down to write. I know nothing about how to stop snacking, so I start with some research. I find some ideas, like drink lots of water, plan your meals and chew slowly.
'Do you want a biscuit?' Chris asks.
'No!'
'Are you sure?'
'Are you having one?'
'Yes.'
'What are you having?'
'Maltesers biscuits.'
The Maltesers biscuits are a recent discovery after an online-shop substitution. We'd ordered flour and got biscuits. I think about the honeycomb and smooth chocolate, all deliciously put together in a biscuit.
'I'll just have one.'
Chris holds out the packet. I take one and they call to me. I take another and return to my research.
The psychology of eating is fascinating stuff.
'I've been emotional eating.' I take a bite of the biscuit and read out my findings. 'Emotional eating is when you're bored, stressed, anxious, unhappy or sad, and you eat for that reason, not because you're actually hungry.'
Chris listens.
'It all makes sense,' I say. 'It's an emotional time.'
My chocolate binges have mainly happened when I've been watching the news and I'm hit by emotion overload — sadness, anxiety, unhappiness, more sadness, more anxiety, more unhappiness. Before even thinking about what I'm doing, I've run to the fridge, grabbed a family bar of Dairy Milk and scoffed the lot.
I read on. 'Recognising when you do this is the first step in taking action to control it.' I take another bite of the biscuit, then start on biscuit number two. I am pleased that I can now recognise emotional eating and, when the time arises, put strategies in place to stop the snacking.
I walk to the fridge, take a third biscuit. They really are delicious. I chew slowly, enjoying its crunchiness. It really is the little things.
'Going without chocolate would be very stressful.'
Chris nods. 'We don't need more stress.'
The next day the sun is shining. I take my shorts from the wardrobe and crowbar myself into them.
'I'm embracing my curves,' I say. 'Dieting's for another day.'
.
Do you enjoy my weekly slice of life column? You can now support my time in producing it by tipping me the cost of a coffee through a site called Ko-Fi.
I am fuelled by caffeine and cake. Please consider supporting me on Ko-Fi. Thanks to everyone who supported last week's post.