'It's our wedding anniversary,' Mum phones to tell me. 'We have cake. Are you calling?'
'Of course. I'll never turn down cake.'
'That's good,' Mum says. 'Your sister's coming too, but don't let that put you off.'
'Right.' There is a brief silence, both of us contemplating the force that is my sister. 'What kind of cake?'
'You'll see.'
'Why are you being secretive?'
'I'm not,' she says, hanging up.
I walk into the kitchen where Chris is staring at a spreadsheet. 'It's their wedding anniversary. Mum sounded a bit… odd.'
'Maybe it's all those years married to your dad,' he says, not looking up.
'She's up to something,' I say. 'She'll be out shopping or something else just as dangerous. I know her.'
I spend the rest of the day working from home wondering what my mother is up to. It's a long day — trying to finish everything before I take a week off for our should-have-been-going-away-but-aren't holiday. Then we drive to Mum and Dad's for a socially distanced patio gathering.
As usual, we're the last to arrive. Mum and Dad are at the end of the garden, on a table for two. My sister and her partner are on the patio, on the cushioned chairs.
'We don't have any emergency chairs,' Dad says. 'So, it's the bench or the wall.'
'Looks like we're in the cheap seats,' I say to Chris, perching on the wall.
'Nothing new there,' he says, joining me.
'Do you want cake?' Mum's already on her feet, heading towards the kitchen, a big smile on her face.
'You should call more often,' I say to my sister. 'There's always cake when you visit.'
'It's because she lives far away,' Mum shouts through the kitchen window. 'Not because she's the favourite.'
I don't mention that sixteen miles isn't that far.
She returns carrying a tray of food. 'We have chocolate and cream cupcakes, jam tarts, apple pie and Victoria sponge.' She parades up and down the patio — proudly showing off the food while keeping her distance. It's not the homemade slapped together cake I'd been expecting. This is in packaging, which means a shop has taken place.
'Where did you get all that?' I ask.
'Don't be cross. I went to the farm shop.'
'Mum! Why? You're supposed to be staying in. You can't be risking your life for a jam tart.'
'They're good jam tarts,' Dad says.
'That's why you were being so secretive.' I look to my sister for back up. 'She's going out too much.'
'You need to stay in,' my sister says using her work voice of authority, the one that makes us all tremble in fear.
Mum looks startled but nods, like a chastised child.
'I've done an online shop for them today,' I say, thinking this is the ideal time to get my sister on side and finally end Mum's gallivanting. 'There's no point having online deliveries if she's going here, there and everywhere. In the space of a week, she's been to the garden centre, dentist, doctor's and now the farm shop!'
A look of horror flashes across my sister's face. She fixes her eyes on Mum. 'Well, stay away from me. You could be riddled with disease.'
'I'm not sure the online shop is working out,' Mum says. 'We don't need 480 tea bags.'
'I got the sizes wrong,' I say. I'd been as shocked as her when the sack load of tea arrived. 'We'll have some. We'll get through them in a week.'
'There's a giant-sized butter, too,' Dad says, holding his hands apart to show just how big. 'Massive.'
'All right! I'll take more notice of the sizes,' I say.
'Can we change the subject?' Mum says. 'Eat cake.'
I take a cupcake and a jam tart. 'It's years since I've eaten a jam tart.' It's delicious — sticky and sweet, perfectly proportioned with crumbly pastry. I'm secretly pleased about the farm shop bakes.
'So, what's new?' Mum says.
'Nothing,' I say.
'Nothing,' my sister says.
'I bought a lawn mower,' Dad says. 'And before you ask, it's essential to me.'
I finish the jam tart, move on to the cake.
'It's our anniversary,' Mum reminds us. 'Forty-seven years.'
Almost half a century, I think. 'That's a long time.'
She turns to Dad. 'We had a lovely day. I'm not sure if the guests did. Your dad left your mother the day after, so they can't have enjoyed it that much… But we had a lovely time.'
'It was windy,' Dad says.
'We need another wedding.' I look directly at my sister's partner, who has been sitting quietly eating his Victoria sponge. 'I need something to be thin for.'
He smiles, looks down at his cake.
'It's a shame you weren't at our wedding,' I say to him, keen to continue the wedding chat. Three years ago, she hadn't met him. She'd brought her old flame — the one we didn't like — and then dumped him a few months afterwards.
On the day, I had a feeling the guy would be getting the red card soon. I'd wanted to ask him to step aside so we could have a family photo without him, but I didn't want to be rude. When the album arrived, he was on every shot.
I'd had no choice but to Photoshop him out, replacing his head with sky, and his body with grass. Now all that's left is a little shadow where his head used to be.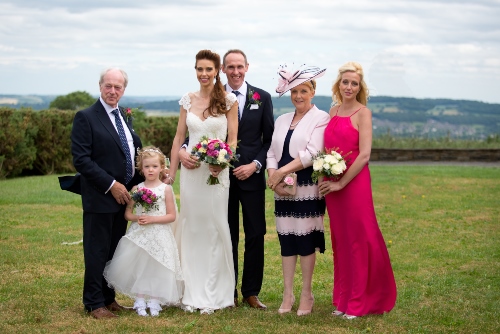 I don't mention any of this to my sister's new chap as he sits there eating his sponge.
'There's nothing like a wedding,' I tell him instead. 'And we need something to look forward to.'
'Lovely cake,' he says.
'I could be a bridesmaid again.' Just thinking about it sparks a flicker of not quite excitement, but hope. A wedding will lift all our spirits.
I look to Mum to see if she agrees, but she's shaking her head. 'You're not subtle,' she says.
In my mind, it's perfectly clear. 'When all this is over, we definitely need a wedding.'
I'm just about to ask my brother-in-law-to-be when he's thinking of proposing, but he's on his feet, practically running down the drive, my sister right behind him.
'What did I say?'
'The poor man is just coming to terms with living with her,' Dad says. 'And now you've terrified him.'
I take another jam tart and watch the happy couple drive into the distance. 'He'll change his mind,' I say. 'Shall we have a sweepstake on when he'll propose.'
.
Do you enjoy my weekly slice of life column? You can now support my time in producing it by tipping me the cost of a coffee through a site called Ko-Fi.
I am fuelled by caffeine and cake. Please consider supporting me on Ko-Fi. Thanks to those lovely readers who have already supported me!