For the first time in five months, three weeks and two days, there's somewhere I need to be. It's written in the diary.
Thursday 27th August — dentist, 9.30am.
I start looking forward to it on Monday, planning what I'll wear and where I'll park and what I'll take with me (mask, hand sanitiser, wipes). It's like I've never had a day out.
'Why are you so excited about a trip to the dentist?' Chris asks.
'Because I'm going out on my own — without dogs, husband or parents. It's liberating.'
He nods and smiles, not quite understanding.
In normal times, my diary is fuller. There'd be work (in an actual office) and visits to bookshops, and cups of tea and slices of cake in various cafés. Since coronavirus came along, the only thing in my calendar has been the monthly reminder to deflea the dogs. To have to be somewhere is momentous.
'You're happy,' Mum says. 'What's wrong?'
'I'm going to the dentist.'
'Well, that's lovely. You're usually nervous.'
'Not anymore.' There's not even the hint of a nerve.
'Be careful,' she tells me. 'There's a pandemic on.'
'Is there?'
'You'll need to be organised and on time. Or they'll not let you in.'
'Mum, I'm forty-one.'
'I know. I'm just saying. You're never organised.'
The evening before my big day out, in an attempt to be organised, I download a car parking app. I don't want to be touching the ticket machine — that's a risk in life I'm not prepared to take.
And on the day of the appointment, I leave early. There is no last-minute panic, no having to wind the car window down to dry my hair because I'm late. I arrive feeling calm and in control.
I park on the edge of the car park and put ninety minutes on the app. A traffic warden saunters from car to car. He keeps glancing my way.
'I've paid,' I want to shout, but don't. Instead, I pretend I haven't noticed him, hoping that somehow my technology is talking to his technology. 
'Where's your ticket?' he asks, coming towards my car.
'I paid on the app.' I raise my voice so he can hear me through the closed window.
He shakes his head. 'It's not come up.'
He moves to the front of the car, looks from number plate to his hand-held device, and starts typing in my registration. He continues shaking his head. 'No, no, not here.'
Eventually he nods. 'Got it!' he says.
I smile, grateful that I will not be branded a car parking thief and fined a hefty sum. I wait until he's moved to the next row of cars, then I scramble out, ready to take my tentative first steps back into society.
At the dentist, I can only enter at the exact time of my appointment. Not too early. Not too late. I stand on the pavement with my mask on, watching the seconds on my watch tick by.
At half past, I tap on the glass. The masked receptionist opens the door. I step into a square marked out with blue tape while she holds a thermometer to my head.
It's a hot day. I've been sitting in the car with the windows up. I've had the stress of the traffic warden. I worry that my temperature will have rocketed, but it appears I am normal and allowed to enter.
She offers me a seat on a plastic chair, but I daren't move or talk or even breathe. My heart is thudding. This isn't a good idea. I have to leave. Just as I'm turning to run for the safety of the car, a woman calls me upstairs.
I do not touch the bannister. I do not touch the door handles. I'm asked to place all my belongings, including mask, into a plastic box. I worry about touching it. But I do, and then take a seat in the chair.
The dentist is in a mask and visor. Without my mask, I feel barely dressed.
'Are you okay?' she asks, coming closer. 'It's all very strange, takes some getting used to.'
As she reclines the chair, she places her hand on my shoulder. After months of people scurrying away from each other in fear, this human contact and kindness almost makes me cry.
'It's awful,' I say. 'I still can't believe it's happening.'
She nods, and as she does, I realise that I've not had a face-to-face conversation with anyone other than my family since this dreadful thing began. I have an overwhelming urge to chat. And so does the dentist.
'What are you doing for the rest of the day?' she says.
'Visiting the bookshop,' I tell her. 'I'm so excited.'
'That's great,' she says. 'Have you read The Tattooist of Auschwitz?'
'Not yet, but my friend just bought it for me for my birthday.'
'I read it in a day,' she tells me. 'You should read it.'
We talk about how lockdown helped her rediscover her love of reading, and then we move on to flossing and tooth brushing. I ask lots of questions and buy some toothbrushes.
With all the chat, the appointment is longer than expected, and the parking app is ticking. There's not long left, but it's enough to walk into town and back.
Visiting a bookshop has been on my mind for ages, but I've kept it to myself, knowing that my mum would say it's too dangerous — I should be shielding and not risking my life for a book. But I have missed the simple pleasure of browsing in a bookshop more than anything.
With gel and wipes in my pocket, I set off into town. Barnsley is not busy by usual standards, but it is busy by coronavirus standards. I speed-walk towards the shop, zigzagging to avoid the shoppers.
I've not been to this bookshop before (it's new) but I know where it is — on the corner of Market Street next to Pinocchio's Italian. Except it's not there. I look around, wondering if it's gone out of business. These are strange and stagnant times. Anything could have happened. I grab my phone and check. It is still in business. It is still on Market Street. It's me who's in the wrong place.
I consult my phone for directions, but it thinks I'm in the United States. I consider asking someone, but they might think I'm riddled with disease and run away. I'll have to rely on my instincts. Barnsley is not a big place. It has to be around here somewhere. I look at my watch. Twenty-five minutes until my car parking runs out.
I cover most of the town centre, but there is no sign of a bookshop. More and more shoppers dart this way and that, struggling to maintain any distance. No one makes eye contact.
I'm surrounded by so many people but feel lost and alone. I need to get back to the car. But just as I'm turning, I have a flicker of a memory. It's of me at eighteen, moving to London and not knowing anyone. I wasn't afraid in the slightest and fell in love with the hustle and bustle of the city. If I can do that, then I can navigate Barnsley town centre at forty-one.
I resume my speed-walking. There is one road left — at the back of M&S. I don't know what it's called. I turn a corner and bump straight into an unmasked man just as he's shouting to someone.
Startled, I leap out of his way, and that's when I see it.
The Book Vault.
I race towards it, step inside, and breathe in the wonderful smell of books.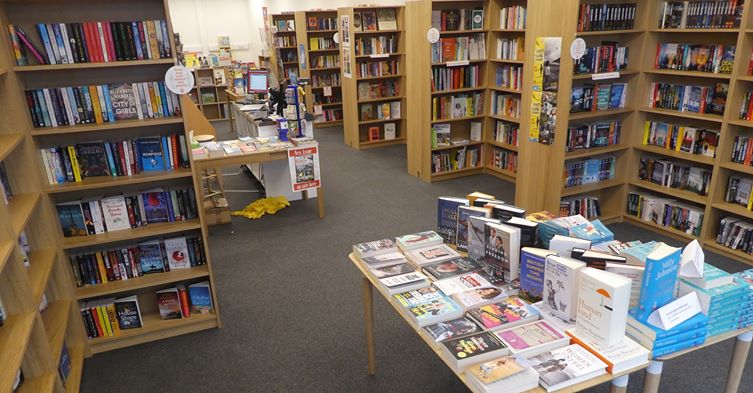 The place is a sanctuary of calm. I amble around the shop, looking at fiction, non-fiction and the latest releases, my stress and panic easing. I do another lap and select two titles I've wanted for a while. I'm heading to the desk to pay when a bright cover grabs my attention. I pick it up and read the blurb. I'm not sure about book-browsing etiquette. If I touch, do I have to buy? If I put it back, and have the virus, could I be putting others at risk? It's best for everyone if I buy it.
'That's a fantastic read,' the bookseller tells me. 'Really funny.'
I smile and, for the second time in a morning, have a conversation with someone I'm not related to.
Being in a bookshop, talking about books makes life seem almost normal again. I could stay all day, but… the car!
Three minutes until my ticket runs out and the traffic warden pounces. I stuff my books into my bag and run. 
.
Do you enjoy my weekly slice of life blog post? You can now support my time in producing it by tipping me the cost of a coffee through a site called Ko-Fi.
I am fuelled by caffeine and cake. Please consider supporting me on Ko-Fi. Thanks to those lovely readers who have already tipped me!