My goal for January was to write every day. It didn't matter what I wrote or for how long, I just had to write.
After a difficult 2021, I'd got out of the habit and had written very little. I had lots of projects that I'd started but not finished, including a collection of stories that has been almost ready since last spring.
The new year is always a good time to set resolutions and goals, and I was determined that 2022 would be more productive than last year. But I had doubts. Having not written creatively since April, when my friend died, I worried that the words wouldn't come.
Rather than putting pressure on myself to finish my book, it seemed more realistic to focus on getting into a writing routine. I wanted to flex my writing muscles to see if they were still there. I wanted to find out if I could still do it.  
Setting a writing routine
I bought myself a wall calendar and, hoping to build some momentum, ticked every day that I wrote and recorded for how long. My husband set up a spreadsheet (he loves spreadsheets) to keep track of word counts. And that was it; I was off.
There were no rules about when I wrote. Sometimes it was in the morning, before the day job, sometimes in the evening. There were days when I could only find 10 minutes, others when I had hours of writing time. One of those days was a snow day when I stayed indoors and did nothing but write and drink tea. It was wonderful.  
Most days I wrote on my laptop but there were a few evenings when I was too tired to even switch it on, so instead wrote in a notebook or even on my phone. It didn't matter. As long as I wrote, I could give myself a tick. And that really did give me motivation.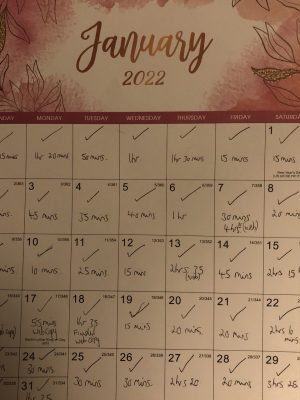 Celebrating success
I also took time to reflect on last year and instead of beating myself up about how unproductive I'd been, decided to focus on the positives. During one of the saddest and most stressful years of my life, I wrote and published a short nonfiction story, Inside Charlie's Chocolate Factory, which came out in October as a Kindle short read.
In winter last year, I wrote a few other stories – Days Like These and Here We Go Again – and shared them on my blog. Both are about life in pandemic times and try to see the funny side.
Later in the year, I wrote a piece for Stylist Magazine about how running was helping me cope with the death of my friend.
Throughout all the highs and lows of the year, I continued to write for clients and at my day job and had the pleasure of working with some amazing and inspirational people.
All things considered, I'd done okay.
January results
Taking action, thinking positive and celebrating success have changed my mindset and kept the January blues at bay. I wrote 7,868 words of a novel, 10,224 words of nonfiction, and rewrote the copy for my website, which is currently being redesigned. I'm pleased with the progress.
Despite my worries about not being able to write ever again, as soon as I opened my laptop and made a start, everything changed. I feel happier, my words and ideas are flowing, and I am excited for the year ahead.
More than anything this month, I realised how much I love writing and how important it is to my mental health and wellbeing. 
So, what's next?
For me, February has to be the month of focus. Now that I'm back in a writing routine and believe that I can do it, I need to focus on finishing my next book, the one that has been almost ready since last spring, the one that Glenda, my illustrator, keeps WhatsApping me about.
At first her messages were very polite, asking where I was at with it.
'Imminent,' I replied.
After nine months of asking and getting the same reply, she's now being less polite and is threatening violence.
So, it's time to get going and get the book out into the world. That's my plan for February.
In case you're wondering, the book is another collection of nonfiction stories, written by me and illustrated by the very talented (and lovely) Glenda Strong. Our aim when we put it together was to make readers smile. I hope it will do exactly that.  
What are your writing plans for February? What January success are you celebrating?
I'd love to hear. Comment below or email me hello@lizchampion.co.uk.