Friday is a momentous day. I make a movie at work and it looks great, even if I do say so myself. I drive home feeling rather chuffed. When I'm stuck in traffic on the motorway I wonder if maybe a film career is calling. Perhaps my 30-second movie is just the start.
As soon as I get home, I show Chris. "The subtitles were a bit tricky," I say, "but as long as people read quickly it shouldn't be a problem."
"It looks…good," Chris says, sounding surprised, but I'm not listening. I'm thinking about what I will wear to the Oscars when my film-making career leads to an award. I breeze past him, take some chocolate from the fridge and head for the sofa. Film-making is an exhausting business and I'm ready for a relaxing evening with a box set and a family bag of minstrels.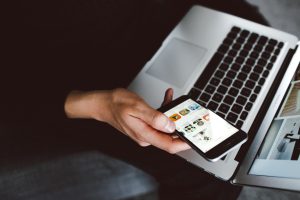 The living room is cold, so I walk to the thermostat and press the 'up' switch. Nothing happens. I do it again, harder. Nothing. I do it again, jabbing my finger into the button. No response. "Chris!" I can feel my stress levels rising. "The thermostat won't work." I'm now back from the Oscars and facing a chilly weekend without any central heating.
Chris hits the 'up' button. We stand together in the cold, listening for the sound of the heating clicking into action. Our hopes are dashed, and we have no option but to spend a nippy evening in front of the TV. "I bet Steven Spielberg doesn't have to spend his evenings like this," I say.
The next morning Chris sits in the kitchen staring into his phone watching videos on how to fix dodgy thermostats. Chris has many talents, but I don't think fixing thermostats is one of them. "Shall I call my dad?" I ask, knowing this is the wrong thing to ask. Chris doesn't answer. He just stares intently at the video tutorial.
"We need an electrician," I say. 'Can you Google it?"
"Ask Alexa," Chris says.
At just the mention of her name, Alexa turns blue showing that she is listening. I'm still not sure how I feel about her eavesdropping into our conversations, but I couldn't think of a present to buy Chris for his birthday and she'd been on offer.
"Alexa, find me an electrician in Barnsley." I say.
Alexa thinks for a second. "There are electricians in London," she says.
"Alexa, find me an electrician in Barnsley."
She mentions one in Wakefield and two in Sheffield, but Barnsley doesn't even get a mention.
"For God's sake," I shout, the anger rising. Just as I'm about to throw her out of the window, Chris suggests I go for a run.
"You're being nasty," he says still staring at his how-to-fix-a-thermostat video.
I change into my running clothes and step outside, where it is much warmer than in the house. I run and feel better. When I return Chris is still staring into his phone but has now started pacing from one side of the room to the other, shouting questions at Alexa, who is still struggling to locate an electrician in the vicinity.
I walk past them and go upstairs. I'm going to a writing retreat for the day, so I'll shower then leave them to it. But before that, all I need to do is turn on my laptop, so my watch can upload my run. Except it won't upload. My watch has gone back in time and thinks it's March 2017.
"Chris," I shout. "Now my watch won't work!"
"I'm sorting the heating," Chris shouts back.
I press various buttons on the watch, but it refuses to believe we're in the year 2018. I give up, but before I shut down the laptop I decide to check Facebook, just for a second.
Ten minutes later I am almost turning red with rage. There has been a security problem and I have to reset my account when I have no idea what passwords I used in the first place. "Effing technology," I shout. "It wasn't like this in the Nineties."
Feeling completely defeated, I shower and go downstairs. Chris is now pacing up and down the hall, stopping to press buttons and swear at the thermostat.
"I'm stressed," I say. "I'm just going to go."
In the car, I take a deep breath, then try to get the satnav working, but it won't. I put the car into gear and drive away.
At the writing day venue, the heating has not been switched on and I'm cold. I type frantically, trying to warm up. I write a lot of words, and feel almost, but not quite, as pleased as I did on Friday after my movie-making exploits. Back in the car, I turn the heating up full blast and dream about being a film director. This time I'm at the BAFTAs.
When I get home, Chris is nowhere to be seen. Alexa sits on the table listening. "Alexa," I say. "How do I become a BAFTA-winning film director?"
"Sorry," she says. "I can't help you."
Read other posts in the Friday Life series.
We're dog sitting but it all goes a bit wrong
Ever struggled to find a moment to yourself? 
Cape Cod, Summer home of the Great White 
I am ill and convinced it's a tropical disease.